Hoco outfits take a new turn
Short tight dresses and a collared shirt with a tie seems to be the norm for most students attire for homecoming, but some students decided to step out of the regular s
tyle this year and dress outside the box.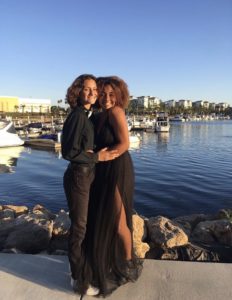 This year, the Associated Student Body crafted an enchanted garden theme for the homecoming dance.  Many students attire for the dance varied from pantsuits, cheetah print dresses, to long formal dresses. Some students dressed more formal while others dressed on the casual side. 
Juniors Jake Nichols and Noah Johnson were seen at homecoming sporting a button-up floral shirt paired with board shorts, Nichols said, "We wore board shorts and shirts be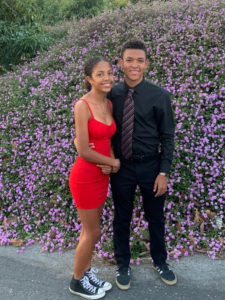 cause we knew we would be the only people wearing that, and why not?" 
Junior Devin Larsen decided to pair a bright purple pantsuit with black high top Converse. "I just wanted to do something different and kinda out there because I'm tired of everyone wearing the same thing," commented Larsen.
Senior Megan Ditlof along with seniors Kambria Haughton, Senna Togneri, Tatum Schmidt and Samantha Henley dressed in short tight dresses paired with heels and boots. "I have always stuck to short dresses, this year I went with a tight black dress… I thought it was very cool how some wore long flowy dresses and how they decided to wear what they wanted to," said Ditlof.
Fashion is a way for people to express themselves and a way to show who they are. So whether it is a school dance or a night out with your friends, we encourage you to take a step out of the norm, express yourself and wear what you want to wear.