All bark, no bite
Ventura High School's varsity football team wins its 10th consecutive rivalry game against Buena
On the warm, breezy evening of Friday, Oct. 25, the Larrabee Stadium was filled with hundreds of fans, ready to watch the annual Buena vs. Ventura varsity football game.
Of those fans, were the friends and family of seniors on the cheer, dance, and hip hop teams who were recognized before the game in honor of their final Ventura High School football performance. 
Even though the game was slightly delayed to 7:30 p.m., the VHS varsity football team broke through the banner and paraded onto the field with intensity, following Buena's entrance. The crowd was fierce with school spirit. 
Less than three minutes into the first quarter, Ventura was already off to a strong start with their first touchdown. The play started with a pass by junior Cade Ledesma (number 7) to the left side of the endzone to be caught by senior Jadon Cline (number 17), followed by the extra point kicked by senior Rourke Rieman (number 18). 
This brought Ventura to the lead with a score of 7-0. Rieman commented, "I think we had a really good week at practice in preparation for our big game. Each team came out and it really came down to who was more prepared and who wanted it more."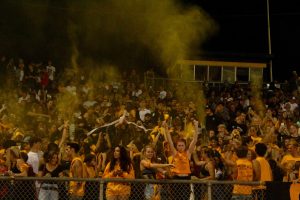 Shortly after, Ventura pulled through yet again. With about two minutes left in the first quarter, senior Zack Rodriguez (number 80) ran a strong 60 yard touchdown on a punt return, which along with Rieman's kick, brought the score to 14-0. 
VHS students and fans were bursting in celebration as Ventura's lead began to grow.
 However, after this moment of triumph for the Cougars, Buena soon bit back. Midway through the second quarter, Buena High School senior and running back, Bruce Mathis (number 2), made a rushing touchdown followed by a PAT kicked by junior Taylin Butterbaugh (number 9). This brought the score to 14-7, Ventura still in the lead.
Still in the first half, Cline completed his second touchdown of the game, also his seventh rushing touchdown of the season, dashing a full 34 yards with less than five minutes remaining in the second quarter. Along with Rieman's reliable kick, the score rose to 21-7.
             Cline stated, "I felt like we had a great physical week of practice and we were mentally in check all week preparing for this game. As a team, I believe we all executed our vision and all took care of our individual jobs."
               Following this thrill, the crowd was treated to performances by the VHS cheer, dance, and hip hop teams at halftime. They were joined by their graduating seniors and performed with passion in front of the BHS cheerleaders.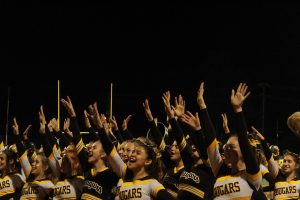 After halftime, the Cougars scored another four touchdowns, three of which were made by senior Dane Kapler (number 28), Ledesma, and Cline.
             Buena was successful as well, scoring another three touchdowns in the second half accomplished by sophomore Jackson Geier (number 5), Mathis, and senior Josh Jones (number 89). To finish off this rivalry brawl, Ventura's Rodriguez ran a quick nine yard rushing touchdown to bring the score to 49-28 along with the help of Rieman's PAT. 
With only seconds left in the game, and Ventura well ahead, the Bulldogs decided to let the clock expire. It was apparent that the Cougars' hard work paid off as they went on to win their 10th consecutive Buena vs. Ventura rivalry game and keep the Suzanne Brown Memorial Trophy at home.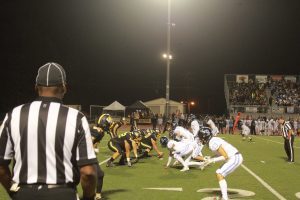 Junior Jordan Tanner (number 10) expressed, "We knew they were going to score and keep trying to push us back and we were ready as shown on the scoreboard.  Thanks to our ground game, we had a couple crucial scores that deflated them and gave them no hope. Overall it was a very fun game and we deserve every bit of last night's win. I'm proud of my boys. They worked hard and it paid off." 
           The determination mentioned by Tanner is evident in the last decade of Buena vs. Ventura brawls. The most recent game in which the Bulldogs overcame the Cougars was in 2009 with a final score of 14-10. The Bulldogs fought to make this happen again, but were not capable of completing the task. 
             Senior Sage Beltran (number 22) explained, "Buena wasn't better than us physically. The only way we could've lost that game was getting into our own heads. We weren't individuals, we played as one. We were our only enemy, and we were disciplined enough to play assignment football and work as a single unit. That's how the scoreboard took care of itself. We walked the walk, not talked the talk." As shown through the persevering Cougars, the Bulldogs were all bark, but no bite.