Falling into fashion
As the days get shorter and the nights get colder, VHS students' transition into fall fashion.
As Ventura transitions into Autumn weather, students continue to find new ways to wear pieces they love, while keeping warm.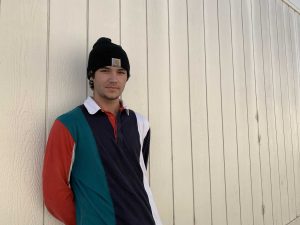 Junior Benet Bouchard shared that her favorite fall trend this year is, "the platform shoe look paired with baggy jeans… right now I really like silk scarves." Lately, silk scarves are being used as a headpiece accessory instead of being worn around the neck. Bouchard also described her typical fall outfit which included, "a jean skirt with a sweater, some chunky shoes, and a
grommet belt."
Junior Gavin Kernagis also illustrated his usual autumn outfit. "A chunky sweater and colored Dickies is usually what I go for," said Kernagis. "My favorite piece to add on to my outfits right now is a beanie."
Beanies were popularized by blue collar workers in the early 1900's as they became essential to keep hair out of the face and stay warm. As the 90's rolled in, beanies transformed from a practical use to a fashionable one. Additionally, more girls and athletes began to wear them. Taking a look around the school campus today, one sees a variety of people sporting beanies of all colors, emblems, and styles.
Senior Xzandalyn Kallstorm acknowledged,. "Just like everyone else these days I get all my clothes from thrift stores and people who don't want them. I wear sweaters, Dickies, and plaid pants a lot but my favorite clothing piece is definitely my old man dance shoes."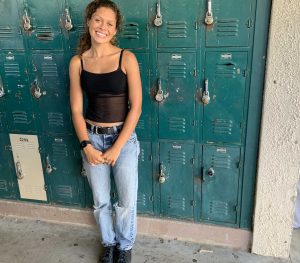 As students become more environmentally aware, many turn to thrift stores, online resale stores, and secondhand shops to find their newest outfit. This change of pace helps to eliminate fast fashion practices by reusing clothing pieces already made. It's not uncommon to find students looking through the clothing racks at thrift
stores in Downtown Ventura and other local shops.
Sophomore Lucca Camus included some of his favorite autumn pieces while also spilling one of his secrets. "Cardigans, sweaters, Dickies and beanies are definitely my favorite fall trends," continued Camus. "But my favorite accessory is definitely my kick-ass Gothic cross. I'm not religious or anything, I'm just really afraid of ghosts."
Junior Taylor Garcia not only shared her favorite fall trends, but also the ones she's seen around campus. "You always see people wearing Doc Martens and Levi's around school, definitely super trendy," observed Garcia. "Right now I like bucket hats, turtlenecks, tall socks, and layering tops. Something that I usually wear in the fall is a jean on jean outfit paired with some Docs." Garcia also mentioned that she enjoys to shop at stores like Brandy Melville and Urban Outfitters, but has lately been turning to Depop, a more environmentally conscious way of
shopping.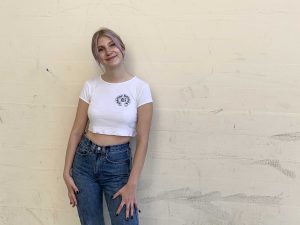 The changing seasons bring opportunities for students to show off their individual style and experiment with new fashion pieces. Take a look around campus to notice the unique styles of those around us.