A long road to victory
 An inside look at the Ventura High School boys wrestling team 
 At 2:40 in the afternoon, the air is dry, the sun is high and the Ventura High School Boys Wrestling team get warmed up with a 40 minute run through side streets behind campus. With sweats on and minds set to overdrive, they start their practice for the day. A two hour practice follows with a combination of drills, situations, live wrestling and conditioning.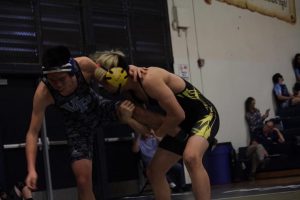 It is just the start of the season for the Ventura Boys Wrestling Team, but the grind started long ago. In mid July, senior captains Riley Beeson and Luc LeVasseur lead their team in training towards one goal, to be one of the best teams in CIF. "This is a very talented team and we have become closer throughout the years, there are big shoes to fill left by last years seniors but we are making them proud," said LeVasseur.
The boys wrestling team had a record of 22-1 last year. For every returning wrestler on that team, that was not good enough. This sport is not for the faint-hearted and some of the wrestlers take it to the extreme. This involves some pretty serious diets. Le Vasseur states, "dieting can be serious, I have had to cut certain foods from my diet, as well as participate in some intense workouts to stay in the weight league I want."
Throughout the years, VHS has put out some very skilled wrestlers and records. Last year the team got to the CIF semi-finals, Beeson, Le Vasseur, and senior Diego Garcia are the returning wrestlers who placed in CIF last year. This team believes it is the best in the state. Le Vasseur says, "everyone's skill has increased at a very high rate, I'm just hoping the program will get the respect it deserves."   
These athletes have to be driven and talented. With a team so close and caring about the sport, they could quite possibly reach their goal of getting the CIF ring. "We have some very good individual wrestlers that have a good chance to qualify for the state tournament, but as a team we have a really good shot at winning CIF," explained senior wrestler Jacob Yale.