Girls polo send the yellow jackets back to the hive
Varsity girls water polo beats Oxnard by a landslide for the first league meet of the season
[dropcap size=small]O[/dropcap]n Thursday, Dec. 19th, Ventura High varsity girls water polo competed against Oxnard High School. This was their first league game of the 2019-20 season, and the girls came out of the water with the win, finishing 18-5.
Senior Megan Ditlof (number 8) commented, "I think we could've played better overall, even though we won [the game]. Many mistakes happened because of bad passes so that's where we definitely should improve. We hope to win league [finals] again this year and go even further in CIF.
With the start of the first quarter buzzer, the girls came out ready to play, and were able to contain the Oxnard yellow jackets. The first quarter ended with Ventura in the lead 6-1. The same pattern occurred throughout quarter two, 13-2, quarter three, 15-3. Quarter four ended the game with a final score of 18-5. Ventura was the dominant team as seen on the scoreboard.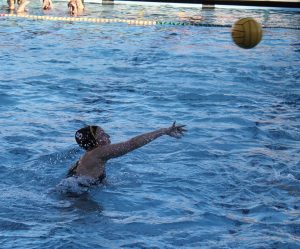 Junior Taylor Nichols (number 14) shared some great aspects of the game and the team. "I thought that our communication, awareness, and patience helped us gain such a high lead. I believe that our team honestly performed really good but I could personally improve on my patience and not panicking as much when I have the ball."
One of the varsity goalies, junior Lindsey McDermott (number 1) had a positive outlook on the game and it's outcome. "Our defense remained solid the entire game and I am so proud of my team for supporting and cheering everyone on." McDermott's hopes for the season are to go far with the team and hopefully score a goal. "Being a goalie, it's rare to score a goal, so one day I hope to gain that goal." McDermott is enthusiastic about the team's future. "We are looking strong and ready to face any opponent." 
Catch the next girls varsity home game against Channel Islands High School on Jan. 7th! Go Cougars!