Ventura shoots, they score!
Varsity girls soccer defeats Rio Mesa
At 5:00 p.m. on a cold January evening, Ventura High School's girls varsity soccer team put on their game faces as they played against Rio Mesa. The first half of the game started off strong with a goal from sophomore Kalaiyah Brown. Playing on the field for a total of sixty-four minutes during the hour and 48 minute game, Brown felt that her hard work turned into success. When asked about how the game went, Brown stated, "My favorite moment was when I scored a header in the first half."
 Browne shared her personal goals and goals for the team, "My personal goal for this season is to get better on my accuracy when it comes to shooting. As for my team, my goal this season is for us to go to the playoffs. I do believe that we could improve as a team by communicating better on the field."
Not only was Brown's goal special to her, but it also meant a lot to her teammates. Junior Alyssa Henderson commented, "The best part of the day was seeing Kalayia Brown's header go into the goal. It was really nice. I also hope that as a team, we can make the playoffs and move forward."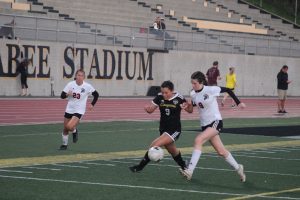 The Cougars stayed in the lead with the score at 1-0, and the score quickly went up when senior Taylor Vaughan scored a goal. Playing a total of forty four minutes on the field, Vaughan was sure to work hard to help her team win. 
Minutes later,  Brown scored the next goal for Ventura, making the school 3-0. "Even though I didn't score any goals during our game with Rio mesa, I'm so happy that my team won and came together to do so. It's my goal to not be so hard on myself and see my wonderful team that I'm surrounded with and want to be there for them," stated sophomore Jayden Marshall. With the win against Rio Mesa, the Cougars gain one more step towards playoffs and state championship.