Will the shoe fit?
VHS's Drama department prepares for the spring musical, Cinderella.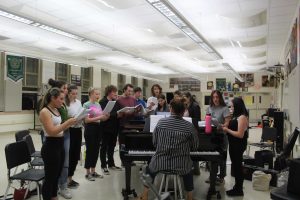 [dropcap size=small]I[/dropcap]n April, the Ventura High School Drama Department will be performing "Cinderella" as the 2020 spring musical.  This 1997 edition has the same classic Rogers and Hamerisetin music and charm with a hint of sass and empowerment. Rossiter plans to put a fresh new spin on this story and create a show that is more "empowering" than the original production.
As of January, the stagecraft class and the drama department have begun preparing for the show. One of the costume and stage designers, Anna Grossi said, "I'm really excited to work on the costumes because it's such a magical show. I'm a bit intimidated by the idea of making animal-inspired costumes, but we have many creative ideas for them so I think they'll turn out well." 
On Feb. 20 and 21, Rossiter had over 30 students attend auditions. They were required to sing a small part of a Cinderella song and do a dance. After a lot of hard decisions, Rossiter the music director, Heidi House, and some other VHS theater alumni decided upon the cast.  
Sophomore Alina Reitz will be playing the role of Cinderella. Reitz had no idea she would receive this role, she explained, "The auditions were fun because I just kind of went into it with no expectations and just to try out for fun. It was really overwhelming at first but as the rehearsals are going by it's getting less stressful and more fun working with everyone."
When asked why people should come see this production, Reitz said, "I think people should come and see the show because we're putting a lot of work and time into it."  Freshman Mya Sherman, who will be playing a mouse, one of the feature dance parts said, "I am so excited to make new friends and grow as an actor." Sherman also stated, "The auditions were nerve racking but tons of fun. The rehearsals are very fun and everyone is so supportive of one another. People should come see the show because everyone is so talented and awesome." 
Sophomore Joseph Lombardo who will be playing the cloth merchant explained what he likes about the show, "The music and choreography is a lot of fun to sing and dance to and people should see it because it's going to be a 'fabulous' show.¨ Senior Sophie Rocha, who plays the Fairy Godmother, commented, "I'm super excited because the technical aspect is going to be super difficult but a fun challenge!…People should see the show because it's a timeless classic with a sassy twist."
A big lead role in this musical is the prince who finds Cinderella's slipper. The role is going to be performed by senior Cole Campbell who said he was "excited for this show, mostly because it is [his] final year and [he is] excited to make new friends through this show."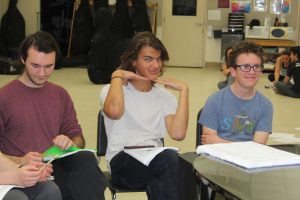 Campbell also commented, "The auditions were intense and very exciting. There were a lot of good actors and there was a lot of competition. So far rehearsals are great, we all are adding our twist to our characters which gives the musical a good refreshing feel and not just the same old Cinderella. People should come see Cinderella because it's going to be a one of show done by professional high school students that will knock your slippers off." This "fabulous" and "magical" show opens on April 23 and runs through May 3 in the VHS auditorium.