A cake walk through League Finals
VHS boys and girls Cross Country earn high ranks in Pacific View League Finals
Ventura High School's cross country teams made their way to Pacific View League Finals on Thursday, Nov. 7th at College Park, CA. The girls and boys on both the JV and varsity cross country teams ran a 3 mile course.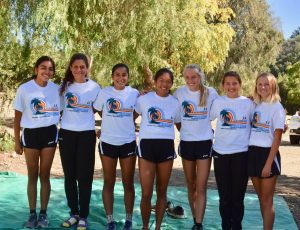 Cross country has their own point system. Unlike other sports, the goal is to get the lowest amount of points. Girls varsity easily took first place in their race, with an overall score of 30. Boys varsity earned second place, scoring a 45. This was just 3 points away from taking first place from Channel Islands, who finished with 43.
Senior Josh Maier, who finished first in the boys varsity race, crossed the finish line with a time of 15 minutes and 34 seconds. When asked about how his race went, Maier stated, "We raced really well and even though we didn't come out with a win we still have high hopes for our CIF season."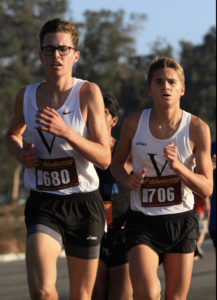 In third place was senior Nathan Ayala, who crossed the finish line at 15 minutes 48 seconds and next senior Clayton Mathews at 15 minutes 49 seconds. 
As for the rest of the boys team, junior Tomas Mountcastle finished in 14th place with a time of 16 minutes and 31 seconds, and Sophomore Inman Costa finishing in 23rd place with a time of 17 minutes and 7 seconds.
 Sophomore Inman Costa thought he raced well, commenting, "I did not [personal record], but the race was still pretty fun and it went well. While on the course, I was turning a corner and bumped into the tail light of a car. I was shocked to see that it had shattered into pieces." 
On the girls side, senior Rita Soriano Flores crossed the finish line in fourth place with a time of 19 minutes and 21. Followed behind her was her teammate senior Julianna Garcia, coming in 5th place at 19 minutes and 23 seconds. Right behind Garcia was sophomore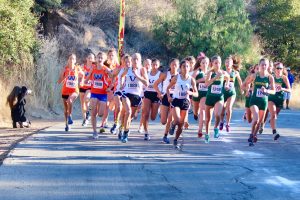 Rebecca Locher, coming across the finish line in 6th place at 19 minutes and 52 seconds. Junior Taylor Sovich finished in 7th place, with a final time of 19 minutes and 53 seconds. Sovich commented, "I think I did decently well for being injured the week before. Our goal wasn't to go all out this race, we are saving that for CIF season."
As for the rest of the team, Samantha Prehn finished in 8th place, with a time of 19 minutes and 54 seconds, followed by freshmen Sofia Stepan who finished in 10th place with a time of 20 minutes and 12 seconds. 
Sovich added, "I'm really excited to see how we perform [at CIF], since we've been working so hard this season. I think we will do pretty well!"