Senior Ball is being kicked around by COVID-19
 The Ventura High Senior Ball will be postponed out of safety concerns for students.
The annual Ventura High Senior Ball event has been postponed to February due to the nationwide COVID-19 surge. 
Originally the Senior Ball was supposed to be held on Jan. 15 at The Spanish Hills Country Club. It was announced on Jan. 5 that the new date for the Ball is Feb. 4 on both the @asb_vhs Instagram and on Ventura High Schools website. 
Biology teacher and senior class advisor Rob Lewis stated, "I don't think it will be canceled, optimistically I think that the new date will hold. There is the potential that it could be postponed again. Although I'd say February 4th is pretty good." 
Although the Senior Ball's first postponement took place during the beginning of the week of Jan. 3 – Jan. 7. On Friday Jan. 7, there was another postponement and the dance is planned to be held on Feb. 25.
Senior class representative Samantha Carr said, "I think it's been just a little bit stressful just because everything else has been getting postponed. We've had to work around a lot of other dates in mind  while planning the new due dates. And trying to keep the same venues and everyone else's schedule in mind." She continued,"All the games getting postponed ended up landing on the week of make ups, so that's why we had to postpone it even further."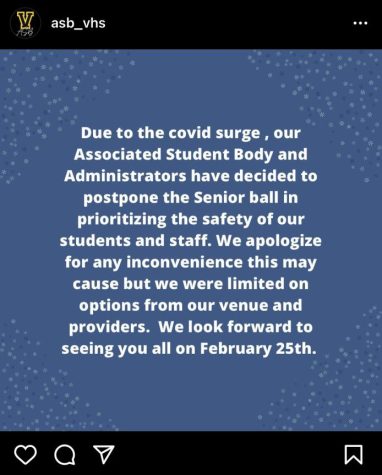 Senior class representative Ava Donaldson also said, "Our administration is trying really hard to make this happen because they know how important of a dance this is." Carr followed,  " We were trying really hard not to have it postponed, but that was just the soonest it could happen. And we also postponed it thinking about the safety and how students would feel just because of COVID numbers right now."
Even with the dance being postponed, the location, Spanish Hills Country Club, has stayed the same. The Spanish Hills Country Club is located in Camarillo. Donaldson said,  "There is so much that goes into having to change it. With the people we have to contact when the venue is available and when the picture people are available. There is only a few dates we can choose from, and it's not whenever we want." 
 The Senior Ball has been hosted for "around 30+ years", said Lewis. He also stated "I could not tell you if Senior Ball had been canceled prior to my time at Ventura, but last year [2020/2021] it was canceled."
For more information on what The Senior Ball is like check out this video, "Senior Ball 2018 Recap", by Emily Distefano and Acacia Harrell from 2018