Opinion: Ventura High's lackluster transportation system
Why VHS's best efforts are in vain
With a student population of over 2,000 students (according to publicschoolreview.com), Ventura High School has a quite large burden when it comes to transporting students from their homes to school and vice versa. In addition, with the nationwide school bus driver shortage post-COVID-19 pandemic, it is obvious that the Ventura Unified School District is struggling to find people to take bus driver positions.
According to the ADP research institute, schools had 13 percent fewer school bus drivers in Sept. 2021 compared to Sept. 2019. This is obviously due to the COVID-19 pandemic's effect on schools and their abrupt closures. It is clear that many former drivers may have been furloughed from their former positions, with there being less of a need to transport students that no longer went to school in person.
At the present time of Jan. 2022, it seems as though there is a lingering effect of the pandemic-related school closures. That is, the presumed understaffing of the VUSD Transportation Department. VUSD transportation director Arie Wiberg was asked for an interview but did not respond.
The only prerequisites for VUSD high school students in order to use district transportation are to live at least 3 miles (5 kilometers) away from their home campus and to present their student ID to the bus driver every day. 
During the last three days of finals week (Jan. 26-28), the bus schedule was changed to have the bus arrive at VHS at 12:45 p.m., which leaves an entire 20 minutes between the last period and the arrival of the bus. Sophomore Bella Long said, "It's finals week so that's good that it's coming early."
The revised finals bus schedule also continues regular pick-up times (which can be as early as 6 a.m.). This means that on Friday, Jan. 28, students without a first period will have to arrive at school over two hours before their first actual period (period four). A one size fits all approach is not compatible with a flexible student schedule. Sophomore Kalea Kenton said, "I think it's okay for the most part, annoying yes but I don't know how else they would make it fair for everyone."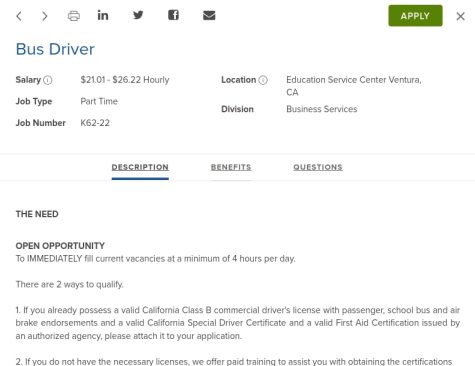 To conclude, the VUSD transportation system is a mess. Despite the district's best efforts, the students of not only VHS but other schools are left with a bus that runs too early and needs to make two runs in order to collect all students. An obvious prescription for this issue would be to hire more bus drivers, which will ultimately allow for a sense of pre-pandemic normalcy.