Off-campus passes should be off the table
Off-campus passes weren't fair to students this year, but is the hype even worth it?
Off-campus passes are specifically designed for the upperclassmen of Ventura High School. Juniors and seniors get these passes at the beginning of the first and second semesters in order to leave campus during lunch. But for the 2022-2023 school year, the passes were a little different.
This year, students had to have all paperwork turned in to acquire their off-campus passes within the first two weeks of school. Last year, students had over a month to get this work completed. I completely understand that office workers want to get the off-campus shenanigans over with as soon as possible. They have many other tasks to work on, but so do the students. Off-campus forms during the first two weeks of school could only be turned in at one spot on campus, the attendance window. The VHS campus holds over 900 upperclassmen. Picture over 900 students lining up at the attendance window to get their forms turned in over the course of two weeks. Not to mention the forms weren't even ready to hand out to students in the first couple of days of school. We had to wait for them, but was there an extension on the turn-in date? No, there was no extension for the students.
Sofia S'gro '23 said, "I felt pretty rushed [with only having two weeks to get my paperwork in]. I think it's pretty unfair especially if you're absent a few of those days because you had to get the paperwork processed which took like four days. I think if you were to miss one of the deadlines it's not fair [that] you can't go off campus for the whole semester."
Hanna Le '23 said, "I do think that a two week period is a bit short. Of course, it is the job of the student to get their forms in on time, but it can be difficult with packed schedules and many other responsibilities to tend to. It would be much more convenient if students could turn forms in at any time."
With all that being said, it was clearly harder to get off-campus passes than it has been in years past. Was all the work to get the pass even worth it? Honestly, the answer seems like no. Sure it is nice to walk off campus and not have to worry about security stopping you because you have your pass. However, security sometimes doesn't stop students to ask for their passes. Another important thing to mention would be that students have to go through all of the stress all over again in the second semester.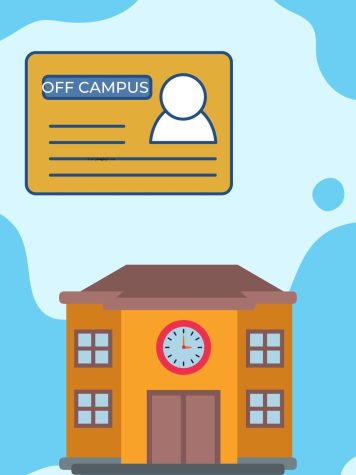 Le said, "I feel like it's such a hassle to redo the process for next semester, but I understand that it is to ensure that students are eligible for the off-campus pass [through GPA requirements]. Though I do feel like it's a great opportunity for students [who didn't meet the requirements or deadlines in the first semester] to get one next semester, it would just be more convenient for students to be able to obtain passes at any time [during the school year]."
I am in no way saying I want campus security to stop me more regularly and ask for my pass. But I do think this makes the work of actually getting it a lot less worth it. Security lets students go often, and it isn't hard for students to make up excuses like having to park their car outside the lot or saying they don't have their ID on them, but they know security has seen it before. Though Le brings up a good point about students who weren't eligible the first semester becoming eligible the second semester, which is great, I agree. I do think we should put into perspective that the GPA requirement for off-campus passes is 2.0, and the grades are checked once at the beginning of the semester when everyone's grades are freshly reset. This means there are truly only two weeks for students to make their GPAs drop all the way down to a 2.0. If students want the off-campus pass so badly, they should be able to keep their grades up for the two-week time period.
Personally, I think the off-campus passes can really only work if students are given more time to actually get their passes and use them properly or if all juniors and seniors are allowed to go off campus, no pass needed. The current system of passes is unfair to the students who put the work in to get a pass and either have one but never need to use it or don't have one, but deserve to have one. The current system with the two-week cut-off just creates sneakier students.