For and against: Holiday car decorations
Are Holiday car decorations in or out?
During the holiday season, people are bound to get festive. And when people get festive, they decorate. They decorate houses, trees, lawns and even their cars…
For by Belen Hibbler and Julian Martinez: 
The holiday season is supposed to be a happy, cozy and fun time for everyone, but it seems some people just aren't feeling the joy anymore. I mean, why else would you be ruthlessly expressing your despise for something as pure as car decorations? It's understandable for some people to dislike them, but having pure hatred for them is being a little dramatic. Hating is something quite familiar for us but when it comes to something as innocent as this, we can't help but support it. Holiday decorations on cars are festive and enjoyable to see when roaming about the day, and they're not serious enough to excessively hate on. 
Reece Picket '23 said, "They don't really make me feel any sort of way. I guess they kind of add to the winter atmosphere that goes around this time of year and it's really nice to see."
In our experience, holiday decorations on cars is something we support and encourage for others to do, but we're not so crazy about them as to participate ourselves. They're cute and corny in the way that warms hearts. 
When it comes to defending against those who passionately hate on the decorations, we're all in. People who find pleasure in decorating for the season shouldn't be subject to attack just because others want to be grouchy and grinchy during holiday time. The innocence of holiday joy is something to be preserved, but people who hate actively work to dwindle down the happiness that comes with the fall and winter time.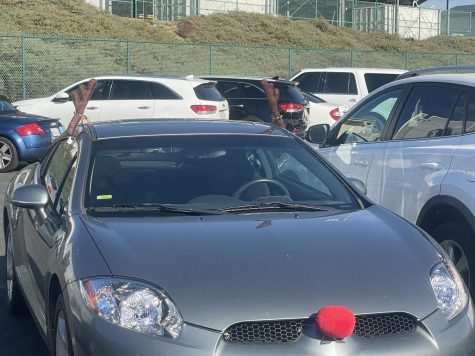 "I just let the owners of the car choose because it's their car and they can do what they like. I don't really see anything wrong with it," said Picket.
So, it's understandable if someone simply dislikes holiday car decorations but once they cross into the land of hostility, their take becomes less respectable given the fact that car decorations are anything but a serious or important topic. They are cute, harmless and in style. 
Against by Lourdes Almalab and Jane Armstrong:
From the antlers to the red noses and even the wreaths, tacky car decorations need to be stopped. These decorations are cute in your house, but not on the road. By decorating your car with trashy knick knacks, you draw so much unnecessary attention to it. If you are going to add decorations to your car at all, you should fully deck it out. 
Emilia Reed '26 said, "I dont think [holiday decorations on cars] look great but I don't care." When we were younger we would see these types of decorations all the time on cars during the holiday and even spooky seasons. Now they are much less popular because we think they are tacky. 
Although they appear as an innocent way to spread holiday cheer, most of the time they are tasteless and unimpressive. Sayra Olmedo '26 said, "I wouldn't decorate my car if I had one."
The opposing side may say that this is a cute way to spread holiday cheer during this season but honestly these types of cars have been ones to laugh at rather than admire. Maybe it is because they just don't look like much effort was put into decorating them because the ones that are decked out in lights and entered in competitions are so much more fun to look at. Either go big or go home. We would rather see people dress up and focus on the tree this holiday season.