Cougars make a splash with their first league game of the season
On Thursday, January 18 Ventura High School's girls water polo had a league match against Buena High School. This was their second match up of the year against BHS, but was their first league match against the bulldogs.
The cougars won with a final score of 12-3, with sophomore Megan Findlay leading the team with six goals.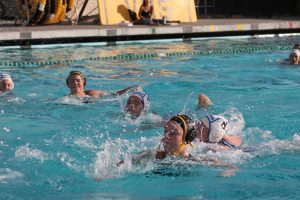 The lady cougars improved, securing an 8-6 record so far this year and a 1-0 record in league, as their other league matches vs. Santa Barbara schools have been postponed due to the mudslides.
The bulldogs record dropped to 1-6 and their league record became 0-2.
Junior Paige White thinks the team played, "good but [we] have done better and definitely could have done better."
The factor of competition in the Buena rivalry games hasn't been much in the past few years for girls water polo, with VHS normally beating BHS by a large margin. However, White thinks it's still "intense and like all other sports we all really want to win."
As for the season, White said that "[We] have placed better in tournaments than the previous years, but could be doing better as a team." She also wants the team "to be considered for CIF and to win the majority of our league games."