Buena who?
On Saturday, January 20, both girls and boys Ventura High School soccer teams had a home game in the Larrabee stadium against their cross-town rival, Buena High School.
VHS girls played first against BHS at 5 p.m. VHS started off good with an early goal in the ninth minute scored by junior Peyton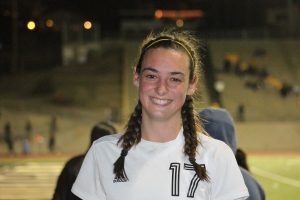 Erickson (number 17,) as one of her teammates headed the ball to try and score, but the ball rebounded off a BHS player back to Erickson who was alone and kicked the ball in the goal.
After the goal, the ball was up and down the field. The second goal was scored similarly to the first, and was scored by Erickson in the 31st minute. Towards the end of the game, BHS scored, leaving the first half 2-1, with VHS leading.
The second half kicked off with VHS attacking the most. VHS's defense kept sending balls up the field to the forwards on attack. Erickson gave a pass to junior Alyssa Moore (number 2,) who tapped the ball in the goal and scored in 12th minute of second half.
On the other side of the field, BHS scored their second goal in the middle of the second half.
Later on, junior Cassidy Hubert scored the fourth goal when the ball was crossed into the goal box and Hubert hit the ball with her stomach into the goal. Due to her goal, the score was 4-2.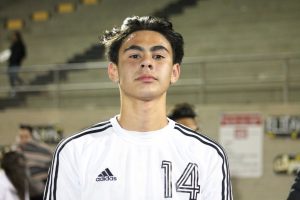 In conclusion, Erickson got her hat-trick towards the end of the game, and she and her teammates celebrated. The game ended 5-2, with VHS beating BHS for the first time this year.    
The boys' game was on January 20 as well, but began at 7 p.m. The first half started off with equal possession of the ball. Both VHS and BHS had a lot of chances to score, but the ball didn't end up inside any goal. Eventually, the first half ended 0-0.
The second half started intensely. Suddenly, sophomore Daniel Gutierrez received the ball from his teammates. He controlled the ball and shot a goal, with the ball hitting the farthest post and going in. Gutierrez commented on the game: "It was a very physical game but we played harder than Buena."
The team celebrated Gutierrez's goal with the biggest huddle of the night. The game ended 1-0 with VHS beating BHS for the second time that night.
The referee blew the whistle and many VHS players dropped to the ground in celebration. That night was also VHS's captain, senior Alvaro Ruiz's 18th birthday. His teammates ended the night by singing "Happy Birthday."