Camarillo Scorpions take lead over Cougars
Ventura High School varsity football played the Camarillo High School Scorpions on Friday, September 14, at 7 p.m.
In the first quarter Ventura scored the first touchdown of the game. Senior Noah Conboy (number eight) ran the first and only touchdown of the quarter.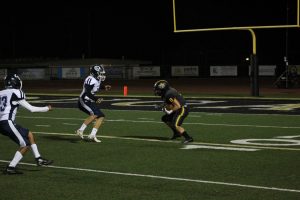 Starting off the second quarter, the Scorpions scored the second touchdown in the game. Camarillo continued to score two more touchdowns in the first half of the game, while VHS scored again once, leaving the score 20-17, Camarillo.
Junior TJ Barlow (number five) blocked one of the Points After Touchdown (PAT) kicks during the second quarter.  Also during the second quarter, junior Trevor Koontz (number nine) had to leave the field due to injury.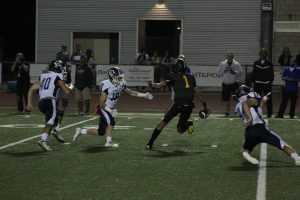 During half time, the VHS cheer squad did not perform, as they usually do. Senior cheer caption Bella Westrich commented on the reason the cheer team did not perform at the half: "We didn't perform because we had an injury during warm ups, and we didn't have time to fix the stunts and the formations in the routine." Senior Paris Gaston went to the Emergency Room due to head injury. Gaston will be out "two or three months."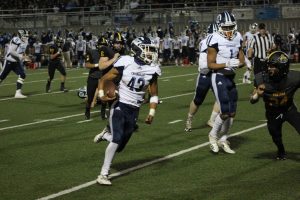 In the third quarter, on a high snap from senior Matthew Padilla (number 68), Camarillo recovered the ball on the one yard line. The Scorpions ran it in, leaving the score 27-17, Camarillo. The Cougars did not score in the second half, and Camarillo ran away with the game. The end score of the game came out to 49-17, Camarillo.
Starting quarterback and junior Carson Willis said, "I think we played good through the first half, we stood our ground and put up a good fight against one of the best teams in the county, [but] we came out [for the] second half and just couldn't get anything going."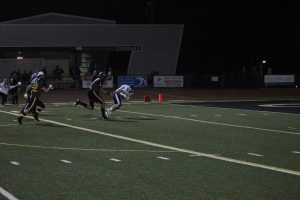 Regarding the rest of the season, Willis said, "We are definitely smaller than [the] previous year. We are definitely not up to our highest potential, but we are making strides to get there."