Searching for science
How much do you really know about careers in the science field? There is a wide range of different types of jobs within the science field and senior Serena Ropersimth hopes to make that clear.
Ropersmith wanted students to get the chance to learn about unique and out-of-the-box science careers so she set up a speaker series in the College and Career Center at Ventura High School. The speaker series is titled "VHS Seminar Series: Exploring Careers in Science" and features five scientists from different companies and professions.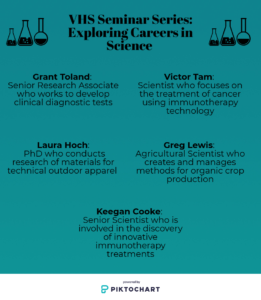 "I really want people to become aware that there are a lot of cool things you can do with science other than just being in the medical field," shared Ropersmith.
The five speakers involved in the series are Grant Toland, Victor Tam, Laura Hoch, Greg Lewis and Keegan Cooke. Each speaker works in a unique field of science ranging from a cancer researchers to Patagonia chemists.
College and Career Counselor Joshua Francis shared his thoughts on the speaker series, "The people that [Serena] has set up are top scientists in their field, so she has done an excellent job of providing quality speakers for you guys."
When asked how students would benefit from hearing these speakers, Francis said, "They will benefit by knowing what sort of pathway to take after high school."
The first speaker is Grant Toland, a cancer researcher, and he is coming to the Career Center on Nov. 18. Students can sign up in the Career Center to attend and the dates for the other speakers will be posted in the Career Center as well.