Girls varsity basketball defeated by Buena 55-38
Ventura High School girls varsity basketball was defeated 55-38 in an away game against Buena High School on Tuesday, Jan. 29. Following the game, the team's overall wins-losses record is 16-11.
To see the Cougar Press's then-live coverage of the game, follow @thecougarpress on Twitter.

The Cougars ended the first quarter down 9-2; while they outscored Buena 15-12 by the end of the first half, the Bulldogs extended their lead to 23-17. The Cougars scored 7 points and 14 points in the third and fourth quarters, respectively, not enough to turn the tide of the game.
Junior guard Sammie Henley (number 25) said, "I thought I shot the pretty well and was aggressive when driving to the basket."
"As a team we did a really good job working together and encouraging each other when things weren't going our way."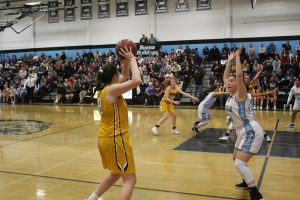 Overall," she said, "we played hard and didn't quit."
When asked if she would do anything differently next time she plays, Henley said, "The next time we play we'll work on limiting turnover and getting rebounds on both sides of the floor."
Henley's statement was echoed by senior Noah Conboy, who attended the game as part of VHS's student section.
"I think the girls played really hard, we just gotta do better at rebounding," said Conboy.
During the game, VHS's student section cried foul at what they described as uncalled fouls against Buena, an assertion Conboy agreed with.
"We got snubbed on that win because of the refs," he said.
"It was a very physical game," said Henley.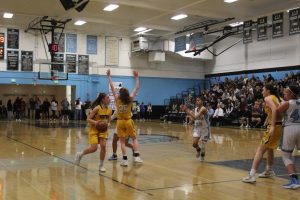 "Both teams wanted to win, but the refs did miss a couple calls and that got us into foul trouble early on in the game."
"It was tough, it was a very physical game, and we had trouble with that physicality," said Coach Ann Larson.
"But it was a great learning experience," she said, "because those freshmen have never had to play in [an] atmosphere like this," in an away game against VHS's cross-town rival.
Larson noted that freshmen played during the game.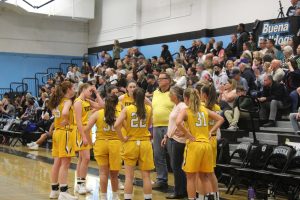 "We have four freshmen on the varsity [team], three of them start," said Larson. The starters are center Amaya Fuentes (number 42), guard Alexis Howery (number 22) and forward Tiernen Phillips (number 23).
On concerns about possible uncalled fouls, Larson said, "We always see things the way we want to see [them]."
"It's hard to say it should or shouldn't have been, but I am very pleased with how supportive our student section was. I love our superfans," she said.
Playoffs start next week according to Larson, and the team will find out who and where they will play Sunday.