A look at Cougar Water Polo through the ages: part four
This is the fourth of four articles interviewing four different generations of  Ventura Water Polo players ranging from 1980 to present.
Thirty years since Mark Schmidt played his last Buena ventura water polo game, the Cougar team has grown more popular and more competitive but continues the tradition of intense rivalries, camaraderie and of course, hazing.

I spoke with Junior Palmer Rovelli who played for the 2019 Varsity Water Polo Team about where the team is today and what it looks like for the near future.  Palmer described a climate of intense competition and camaraderie.
G: What made you want to do water polo

P: My friends played it before like some older friends that had played it and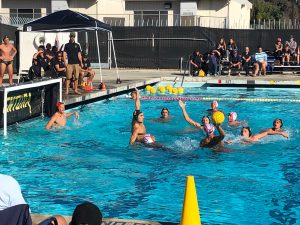 my sister played it actually.

G:  What's your favorite part?

P: Being in shape and like swimming in the water.  I feel like you don't sweat if you're swimming.

G: so you get that kinda like sore feeling but then it's not like sweating [  ].

P:  Yeah it feels good cuz it like equals out and stuff so yeah that's pretty much it.

G:  Do you have any good stories? What's your favorite stories that quantify why water polo at VHS is fun for you? Ones you wouldn't mind sharing . . .

P:  we had a tournament down south but we were playing some team at night and they were crushing us in the beginning but then everyone started going off, the whole team was playing well and it was insane and everyone was super hyped and we ended up just killing 'em and everyone was hyped and we were like talking [trash] to em.  It was beast.

G:  I'm looking at the generations of water polo and one of the questions I'm asking is about hazing to see how it's progressed.  Has there been any hazing? When you first entered?

P:  Yeah there's definitely been hazing like not nearly as much as what I've heard about [   ].

P:   Like Schmidt, Schmidt's like cutting back on it.  He's like cracking down super hard.

G:  I interviewed Schmidt about it.  

P:  Really?  [ ] He's like you guys need to stop doing that.

It appears that Ventura's Water Polo's popularity grows and the enjoyment of the intense competition and the camaraderie continue to attract new Freshman players despite almost 40 years of coaches and players trying to keep the hazing to a minimum.
2018 Boys Water Polo schedule
Ventura Unified School District
Ventura High School
2 North Catalina Street
Ventura, CA 93001
(805)641-5116 FAX: (805)641-5310
SPORT: Boys Water Polo
LEVEL (Varsity, JV, Sophomore, Freshman):
Varsity (V) & JV
SCHOOL YEAR:
2017-2018
Practice Begins:
Number of Contests:
28
First Scrimmage:
Starting Time:
Var 3:15, JV & FS Follow
First Contest:
Aug. 20
Last Contest:
Oct. 25
DAY OF WEEK
DATE
OPPONENT
NAME OF HIGH SCHOOL
OR LOCATION
ADDRESS AND CITY
CONTEST TIME
PRJ
TIME
BUS
TIME
RTN
TIME
# OF
BUSES
Tues.
8/21/18
Thousand Oaks (Scrimmage)
Thousand Oaks High School
3:15p
NA
NA
NA
Thurs.
8/23/18
Newbury Park HS (Scrimm)
456 N. Reino Rd, NP, 91320
3:15p
1:15
1:30p
5:30p
1
Sat.
9/1/18
De La Salle Varsity Only
VHS
TBA
NA
NA
NA
Fri.
9/7/18
Agoura JV Tournament
28545 W. Driver Ave, AG, 91301
TBA
12:45
1:00 PM
TBA
1
Sat.
9/8/18
Agoura JV Tournament
28545 W. Driver Ave, AG, 91301
TBA
NA
7:00 AM
TBA
1
Tues.
9/11/18
San Marcos High
VHS
3:15p
NA
NA
NA
Thurs.
9/13/2018
Buena High School*
VHS
3:15 PM
NA
NA
NA
1
Friday
9/14/18
SB Frosh/Soph Tourney
700 E. Anapamu, SB, 93103
TBA
1:15 PM
1:30 PM
TBA
1
Sat.
9/15/18
SB Frosh/Soph Tourney
700 E. Anapamu, SB, 93103
TBA
NA
7:00 AM
TBA
1
Fri.
9/14/18
Servite Hank V Var. Tourn
1952 W. La Palma, An,92801
TBA
11:45
12:00 PM
TBA
1
Sat.
9/15/18
Servite Hank V Var. Tourn
1952 W. La Palma, An,92801
TBA
NA
7:00 AM
TBA
1
Tues.
9/18/18
Santa Barbara High School
700 E. Anapamu, SB, 93103
3:15p
1:15p
1:30p
5:30
1
Thurs.
9/20/18
Channel Islands*
VHS
3:15 PM
NA
NA
NA
Fri.
9/21/18
Santa Barbara JV Tourney
700 E. Anapamu, SB, 93103
TBA
12:45 PM
1:00 PM
TBA
1
Sat.
9/22/18
Santa Barbara JV Tourney
700 E. Anapamu, SB, 93103
TBA
NA
7:30 AM
TBA
1
Thurs.
9/20/18
South Coast Var. Tourney
600 Irvine Ave, NB, CA 92663
TBA
9:00 AM
9:15 AM
TBA
1
Fri.
9/21/18
South Coast Var. Tourney
600 Irvine Ave, NB, CA 92663
TBA
12:00 PM
12:15 PM
TBA
1
Sat.
9/22/18
South Coast Var. Tourney
600 Irvine Ave, NB, CA 92663
TBA
NA
6:00 AM
TBA
1
Tues.
9/25/18
Rio Mesa High School*
545 Central Ave, Ox, 93030
3:15 PM
1:30
1:45
5:30p
1
Thurs.
9/27/18
Pacifica*
VHS
3:15 PM
NA
NA
NA
Fri.
9/28/18
Dos Pueblos High
7266 Alameda Ave, 93117
3:15p
12:45
1:00p
6:30p
1
Tues.
10/2/18
Oxnard High School*
VHS
3:15 PM
NA
NA
NA
Fri.
10/5/18
HS South Bay Var Tourney
640 Main St., ES, CA 90245
TBA
12:00 PM
12:15p
TBA
1
Sat.
10/6/18
HS South Bay Var Tourney
640 Main St., ES, CA 90245
TBA
7:00 AM
7:00 AM
TBA
1
Tues.
10/9/18
Channel Islands High*
1400 Raiders Way, Ox, 93033
3:15 PM
1:15
1:30
5:30 PM
1
Thurs.
10/11/18
Rio Mesa High School*
VHS
3:15 PM
NA
NA
NA
Fri.
10/12/18
Agoura JV Tournament
28545 W. Driver Ave, AG, 91301
TBA
12:00p
12:15p
TBA
1
Sat.
10/13/18
Agoura JV Tournament
28545 W. Driver Ave, AG, 91301
TBA
7:00a
7:00a
TBA
1
Tues.
10/16/18
Pacifica High School*
600 E. Gonzalez Rd, Ox, 93036
3:15 PM
1:30
1:45
5:30 PM
1
Thurs.
10/18/18
Oxnard High School*
3400 W. Gonzalez Rd, Ox, 93036
3:15 PM
1:30
1:45
5:30 PM
1
Fri.
10/19/18
Buena High School*
5670 Telegraph Rd., Vta, 93003
3:15 PM
1:30
1:45
5:30 PM
1
Wed.
10/31/18
CIF Wild Card
TBA
TBA
TBA
TBA
TBA
Thurs.
11/1/2018
CIF First Round
TBA
TBA
TBA
TBA
TBA
Sat.
11/3/2018
CIF Quarterfinals
TBA
TBA
TBA
TBA
TBA
Wed.
11/7/2018
CIF Semifinals
TBA
TBA
TBA
TBA
TBA
Sat
11/10
CIF Finals
TBA
TBA
TBA
TBA
TBA
Tu-Sat
11/13-17/18
State Regionals
TBA
TBA
TBA
TBA
TBA
*Pacific View League Game
PRJ TIME: The time students need to be at school to board the bus for their destination
BUS TIME: The time the bus will leave school for its destination
RTN TIME: The time the bus will return students to Buena or Ventura High School
Head Coach: Debra Jordan
Spencer McGrath
Head Coach: Debra Jordan
Asst. Coach(s):
Mark Schmidt
Athletic Director:
David Hess