The meet of Ventura County: Who will rise above the rest?
On April 18, the Ventura Cougars went to Moorpark High School to compete in the -Ventura County Track meet.
The group was made up of some of the higher-ranking athletes on the team and they went to show out. After school on the 18 of April the athletes left for Moorpark.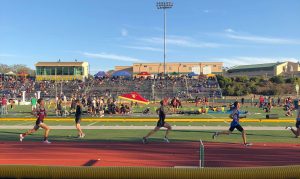 On the field, Senior Derek Pekar pole-vaulted 15 feet, which is a new personal record and also puts him at number one in the county. Along with Pekar, sophomore Peyton Redmond achieved a new personal record in the 400 meter. She ran the lap around the track in 60.1 seconds. Towards the end of the meet the girls 4×400 team, which is one lap per person relay style, placed second in the race with a time of 4:03.38.
Sophomore Taylor Sovich passes the baton to sophomore Peyton Redmond. Seniors Alison Tolusa and Cassidy Hubert finished the race with the last two laps. In the boys 800 meter race, senior Charlie Hammel placed second in his heat with a time of 2:01.31 and junior Josh Maier placed first in his heat finishing with a time of 1:59.81.
In the Boys 300 meter hurdles, sophomore Connor Loughman and freshman Cooper Anderson came in first and second with times of 44.53 and 45.68. When asked about the meet, Anderson said, "We performed well although we didn't place in the top spot of every event, it was still a great effort from the whole team."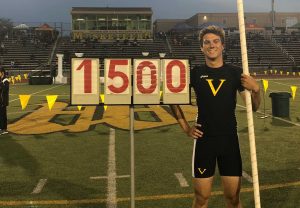 For high jump, junior Shannon David places first in her flight, jumping four feet and nine inches. Sophomore Lizbeth Ramirez came first in her long jump flight at sixteen feet and two inches. Senior Cole Stender broke his 800 meter time by 2 minutes, making it Stender's new personal record. In the mile race, Junior Madeline Locher ran a quick 5:01. Junior Nathan Ayala ran the 3200 meter race and placed second place. When asked about his performance and the team's, he responded "I raced well and held on tightly to the first spot and although i couldn't hold on to it, it was a great race. The team did well today we all performed our best."