Girl power: Madeline Locher locks in new record
Junior Madeline Locher is continuously at the head of the cross country pack for VHS and is continuously raking in new personal records as well as a recently broken record for the school.
Locher spoke to The Cougar Press of her running journey, beginning at the age of 8 when she began running track and cross country. On her love for the sport, Locher commented, "I instantly fell in love with the sport. I love competing, but I also just love going on long, easy runs because it helps me relax and get rid of stress. I think it's really important to run because you genuinely enjoy it, not just because you're good at it."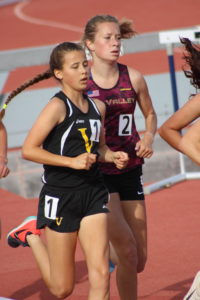 On the other hand, Locher commented on the undeniable difficulty of the sport, saying, "[In high school,] I realized that distance running is one of the most physically and mentally challenging sports. Running 30-40 miles a week can be tough and it takes a lot of willpower to continue running when your legs are in pain." Despite the physical and mental challenges of the sport, Locher has continued running for her entire high school career. She attributes this largely to the support of her teammates and coaches.
Locher commented, "[My teammates] are my best friends and it is always easier to complete a hard workout when you know you are doing it together and striving for a common goal. Although running is an individual sport, it also involves lots of teamwork in order to win. I think I really started to become a good runner when I started running for my team instead of for myself." Another aspect that has supported her continuation of the sport has been the support of her coaches–Coach Tokar and Coach Biller–as well as her parents, who she stated are very supportive and raise her confidence.
Locher then went on to comment on her recent broken record, which she scored at the CIF Southern Section Championships when she won the 3,200 meter race, what she added to be "one of the best races of [her] life." She stated that her strategy was to keep with the front pack and remain relaxed. Of her win, she spoke about her decision to "take a risk and move to the lead" in the last lap, at which point she broke away from the pack and won the race.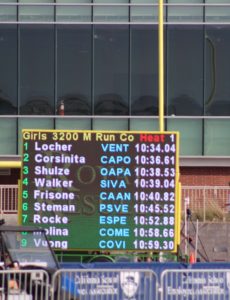 This particular race won Locher a new school record for the 3,200 meter, with a time of 10 minutes and 34 seconds. She stated that she was very happy and surprised to win, and even more when she found out she had made a new record for VHS.
Locher also commented on why she believes she was able to succeed this year as well as compete with great success. She stated, "I think I was able to have this success this year by simply being dedicated, focused, and working hard. I know that sounds pretty cliché but that's the only way you can improve. I trusted my coaches and completed all the workouts to the best of my ability." Adding, she commented, "I think having confidence in yourself is also key in this sport. I try to balance running with other aspects of my life so it doesn't completely take over my life. Dealing with pressure is also hard, but I try to block it out before a race and remember that all I can do is my best."
When asked if she would recommend cross country and track to others, Locher said, "Distance running is very fun and rewarding. I would definitely recommend anyone to try cross-country and track. One of the nice things about the sport is that you don't have to be the most talented runner, you just have to be willing to work hard and be patient and you will improve. It's a great group of people to be around and you get to travel to cool places for meets." She especially expressed excitement for the upcoming Mammoth Training Camp, adding that it is her favorite week of the entire year.
Lastly, Locher shared her love for her sport in stating, "Running has become such a big part of my life that I can't really imagine what my life would be like without it."