On Feb. 27, the boys varsity volleyball team played their first home game against Port Hueneme High in the Bob Tuttle gym. The boys came out strong with senior Nathan Johnston (number 9) scoring the majority of the points. Hueneme matched the same offensive energy as Ventura, but the Cougars came out on top with an ending score of 20-18 for the first of five sets.
The second set proceeded with points being scored on both sides of the net, three consecutive points scored by Johnston. Followed by Johnston's success, middle front; junior Dylan Nicodemus (number 8) pulled through and spiked a ball to the ground, scoring another point, winning the second set.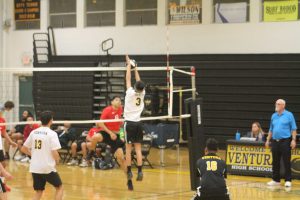 Nicodemus commented about the game and what the team can work on, "It was our first game together and we were still figuring out how to work as a team and find each other's groove. We can definitely improve ourselves by working harder in practice and working better as a team."
Only needing to win one more match to win the game, the Cougars came out to play their third set of the day. Both sides fought hard in the last set, but the Cougars took the win with a final score in set three of 3-0, winning their second game of the season. 
When asked about the strong parts of the game, senior Enrique Zavala (number 11) explained, "The game went pretty well. We lost our first game against Dos Pueblos so this was a comeback for us and I feel pretty energetic about it." Junior Edgar Servantez (number 3) commented about some of the team's hardships, "In the beginning of the game, we did mess up on some passing, but we ended up turning it around during the end."
Although Ventura won, the boys believe that there is always room for improvement. The Cougars still have a long season ahead of them and are currently 3-2 in league.