Boys Water polo swims towards Channel League
Ventura High School boys water polo played against Buena High School at the VHS pool on Thursday, October 5. This match marked the team's second and final game against Buena this season and their fifth league game.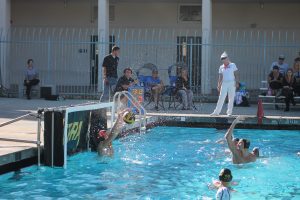 The Cougars won with a final score of 14-2. This season they have an overall record of 14-4 and a league record of 4-1, with three league matches left.
Junior Omar Bawab responded to how he thinks they performed: "We played pretty well. Buena isn't a very strong team compared to us so it was an easy win."
This was the boys second victory over Buena this year, after they defeated them earlier this season. VHS water polo has had success beating Buena the past few years, as well as beating them again this year for the third year straight.
These prior victories gave Bawab and the rest of the team confidence going into the match against Buena.
Overall, he believes that they have had a successful season so far: "We had a really strong start. We had a little bit of a dip in the middle of the season at a tournament, but I think we're heading back up to the top."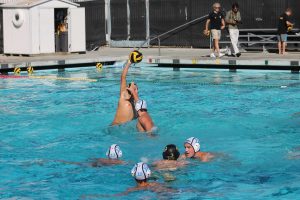 They lost three games in that tournament, which is what he indicated as the "dip" of their season. Their sole loss in league was against Dos Pueblos High School.
Bawab is confident in his team's abilities and their chance at winning Channel League this year.
"Well, I'm expecting to finish at least top two in league, we really want to win, and we're really hoping to make it to the championship," he said.
After making it to CIF last year, Bawab and the rest of water polo would like to repeat that success.
The team's next match is on Tuesday, October 10 against San Marcos High School at VHS. This is their sixth league game and second game against San Marcos.