Opinion: Step up your game, attend more sporting events
Ventura High School's student section has gone downhill within the last year or two. Students should be going to as many games as they can; when other teams show up to VHS, they should see stands full of students and parents, and they should be able to hear a loud student section.
Last year, VHS's rival– Buena High School– lost to the varsity football team, and no one could deny that VHS had a loud spirit section.
According to students, the games aren't as enjoyable as last year and the previous years. Many students now just stay home instead of going to the games.
Football season and girls volleyball season are both more than halfway over and some students haven't even attended any games.
When many students attend sports games, the athletes get more excited and have more energy while they are playing.
VHS junior and varsity volleyball player, Tatum Teel, said that "it's so fun when everyone gets pumped up around the court, I feel like it also gives us more momentum with our team. I wish more people would attend, it would help a lot!"
Having a loud, energetic student section also helps to intimidate other schools and show them how much Cougar pride VHS students have.
Teel added, "It shows our opponents what a great school we are!"
Some students feel that the reason for the lack of enthusiasm is the class of '18 seniors. Senior Derek Swanson said, "The student section has gotten worse since last year because not as many people go and the senior class last year was loud." When asked if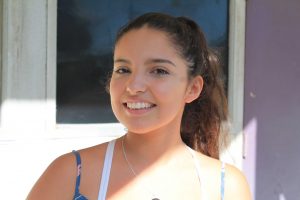 he would encourage more people to attend the games he said, "I definitely think more people should be going."
Students need to keep the school spirit alive, no matter who the senior class consists of.
When asked about the student section this year, junior Jasmine Williams said, "The student section isn't good this year and I think people should go to more games." She added, "This year hasn't been the same as the last couple years."
Related to this topic, this year, VHS administrators are no longer allowing the gold powder during the Buena game anymore, according to ASB. It is to be considered a "health and safety hazard."