VHS lady Cougars defend their home court against cross-town rivals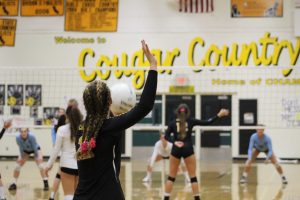 Ventura High School girls varsity volleyball played their 23rd game of the season against Buena High School on Tuesday, October 10 winning 3-1. This puts their league win percentage at 0.833%.
In the first set VHS won 25-22, in the second set BHS won 25-23, in the third set VHS won 25-17, and VHS took the fourth and final set of the game 25-16.
Stakes and emotions ran high, according to observers. Both schools brought cheer teams, with Buena cheerleaders performing flips after the second set and VHS cheerleaders calling out above the crowd and clapping in sync. Both high schools brought loud and energized spirit sections, singing along to the music during timeouts.
Alia Knight, assistant varsity coach, said that "We were really nervous because we felt like Buena was really going to come back and be ready for some revenge on our home court, so it was important that we finished out strong."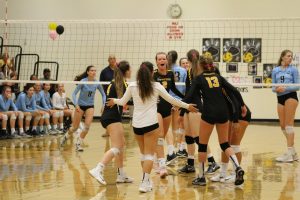 Knight named some of the highlights of the game: "We worked on some quick plays, so we got those done. Our serving was not great but I think that we executed our offense really well and that's what we were trying to do and [we] really worked on moving the ball around."
As this was one of the final games of the season, VHS will be moving on to CIF. Knight said that she hopes to finish up the season "hopefully really strong. We're hoping we can finish out the channel league winners and hopefully [win] a home bit for our first round of CIF."
Girls volleyball will play their next game on Thursday, October 12 against San Marcos.