Cookin' up the facts with Culinary
Culinary at Ventura High School is taught periods two through five, and the culinary ROP class, Regional Occupational Program, is periods six and seven in room 83 with Chef Kayla Hernandez.
Senior Kyle Francis in the ROP class said, "We mainly make whatever Chef tells us to, but [sometimes] Chef assigns us a free day where we just cook whatever we want."
Recently, culinary students have been learning to make breakfast foods, and they will gradually move on to making lunch dishes and pastries.
Normally, Monday, Tuesday, and Wednesday are prep days, when Hernandez demonstrates what they will be making later in the week.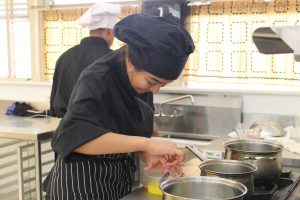 Thursday and Friday are lab days, in which the students get to cook the dish demonstrated at the start of the week. The recipe, along with the ingredients, are given to the students for them to prepare. They must put their belongings away from the area where they will be cooking, wash their hands, put up their hair, and put on their aprons.
Senior Damian Martinez added, "You can eat what you make, you just can't take it outside [the room]."
After the dish is made, the students must clean and sanitize their area, and wash and put away the used supplies and dishes.
In the ROP culinary class, the students get to use what they have learned outside the classroom. Francis said, "What I think is really cool is [that] next semester we actually go out and intern at restaurants. I don't know which restaurant I'm going to go intern at, but I'm hoping it's going to be a good one."
After being asked what made Martinez want to take the class he replied, "I don't know how to cook, and when my parents aren't home, I don't know what to make, so I took it because I want to learn how to make food on my own."