Opinion: COVID-19 is not hindsight 20/20
The COVID-19 pandemic is not over yet
The COVID-19 pandemic has largely been pushed to the sidelines. It's like as soon as mask mandates were lifted so were concerns about the pandemic, which is still in effect. While COVID-19 cases in Ventura County are not as high as their peak between Jan. 15 to 16, they remain comparable to or even higher than early and mid-pandemic (March to June 2020, March to July 2021) case rates. According to The New York Times (NYT), the daily average cases on May 21, 2021, stood at 24. On May 21, 2022, daily cases were at 309.
According to the same NYT report, Ventura County reported a 151 percent increase in average as of May 21 from May 7's 123 daily average. Meanwhile, 73 percent of Ventura County residents are vaccinated against COVID-19. According to the Ventura Unified School District's COVID-19 dashboard, 43 VHS students have contracted COVID-19 as of the week of May 24. During the entire 2021-2022 school year (as of May 24), 429 VHS students have contracted COVID-19. This means that 10 percent of all COVID-19 cases at VHS have occurred relatively recently. There is still an ever-present danger of COVID-19, even over two years from the beginning of the pandemic. Victory cannot yet be declared against the virus.
Freshman Isabella Brito said, "I don't think the public really cares anymore. Everyone gave up trying to care. I think that it is still unsafe and we still have to be cautious, COVID-19 is still a thing and the public needs to be a little more aware."
American public attention has become tired of the COVID-19 pandemic. According to Ipsos, a global market and public opinion research firm, 31 percent of polled Americans believe that the COVID-19 pandemic is over (as of May 18). This belief is not founded in the empirical reality of the pandemic, as COVID-19 cases continue to rise.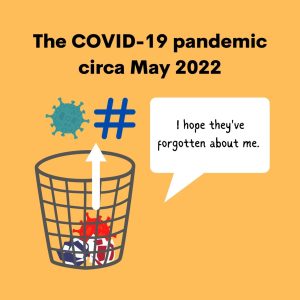 Freshman Analy Martin said, "I am in the middle. I do think COVID-19 gets the attention it should get but I also feel like at the same time no… I feel like after we got rid of the mask mandate, COVID-19 doesn't seem to be around anymore and I don't hear about it as much as we used to. And I feel like we should keep on putting stuff up to get vaccinated, and why being vaccinated helps as well. I do feel like this is still a serious thing and it's always been."
Presently, conventional wisdom proses that when COVID-19 is ignored, it disappears. This relationship is false, as proven by early pandemic response failures. The difference between May 2022 and 2020 is that in 2020 trends favored greater restrictions (mask mandates, public space closures, etc.), while its current counterpart has seen precautions discarded. Gone are the days of mandatory masking in public spaces, including Ventura High School. Even holdouts such as public transportation have scrapped their mask mandates.
The solution to this trend is not to reinstate old policies, that would be broadly unpopular. Instead, preventive measures such as masking and vaccination must be promoted. Besides the obvious, there must be a psychological change among Americans. There needs to be a conception of life that acknowledges the risks of COVID-19, and its resistance to descent. It has to be reckoned that COVID-19 is unlikely to disappear and to balance its danger to society and the pleasures of the pre-pandemic world.                                                                                                              
Sophomore Nathan Lopez said, "People need to learn to move on [from COVID-19]. I think it has gotten more than enough attention during its peak and even a little after that, but since it's died down in severity it has lost relevance and that's great…it shouldn't be considered a 'pandemic' anymore. The current variants are about as deadly as the common cold and life seems to be going back to normal."
The COVID-19 pandemic should remain closely watched by the public. Although COVID-19 may be perceived as recently innocuous, it has proven itself to be otherwise. Its cases have risen, both in Ventura County and at VHS. COVID-19 is still a threat that demands the public's attention. It has led to the cancellation of events such as the spring dance. COVID-19 is still present in society, nowhere near its fringes. The pandemic has yet to become endemic.