Opinion: Spirit week isn't a hit like it used to be
Ventura High School's ASB is in charge of events like dances, fundraisers and rallies all over campus. But are they lacking effort on spirit days?
The week of Oct. 3 was what Ventura High School students refer to as rivalry week between Buena High School and VHS football. It is so important that ASB sets up a full spirit week. But spirit days this year are lacking in effort and were announced rather late compared to last year. This year the spirit days were Dress Up vs. Dress Down Oct. 3  (where students wore fancy clothes for dress up or pajamas for dress down), Dress Like Your Favorite Teacher Oct. 4 (where students wore clothes similar to their favorite teacher), Dogs In or Dogs Out Oct. 5 (where students wore sneakers for dogs in or sandals for dogs out), Buena Bookworm Day Oct. 6 (where VHS students dressed as BHS students) and Extreme Black and Gold Oct. 7  (where VHS students went all out in black and gold clothes).  
Although there were some good spirit days chosen in the mix, like Thursday (Oct. 6) and Friday (Oct. 7), which are spirit days that get repeated each year. Some students believe that some days lacked effort or could've been better represented.
Elonah Boyd '23 said, "I think [spirit week] was a lot worse than last year's and I think the ideas they came up with were not very good [because] they were not something you can execute good, like you can't dress up well."
Last year's rivalry spirit week began with Beach Day, then moved on to Adam Sandler Day, next up was Rivalry Day,  then Wear Your Halloween Costume Day and the week concluded with Black + Gold Day. Each spirit day last year was related to the rivalry game. Each day had its own connection such as surfing to another trophy for Beach Day and cougars running the longest yard for Adam Sandler Day. This year, the days had little to no correlation.
The spirit day that was the most controversial to the student body would have to be Dogs In or Dogs Out Day. The theme of this day, to clarify, was to either wear open-toed shoes for dogs out or to wear closed-toed shoes for dogs in (toes being dogs). The reason this day is so controversial is that VHS students had to wear shoes.
Camille Quien '23 said, "I feel like the dogs out dogs in didn't really make sense cause that's like normal shoes for everyday."
Another day that was seemingly controversial was Dress Like Your Favorite Teacher. Tuesday's spirit day was minuscule in participation. Also, dressing like your teacher had the least to do with the VHS versus BHS football game. Sure it was a fun spirit day, but what did it have to do with the game?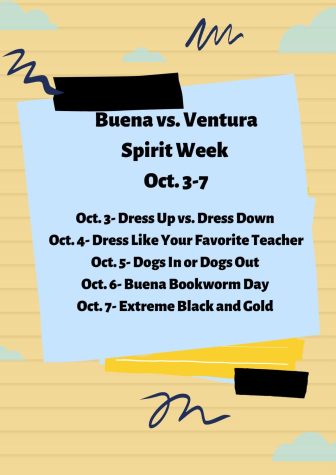 Another important factor to mention is that rivalry spirit week was not announced on ASB's Instagram till the Sunday before the week began, when last year, the days were announced on a Saturday, giving more students time to prepare. I wish the days had been announced a little sooner. Although there were days that the student body didn't seem to enjoy, spirit week did have some highlights. Buena Bookworm Day, which has been repeated for years, has always been a hit. Extreme Black and Gold Day was also a hit.
Quien said, "I like gold day [Friday]. As long as people full send do it, it's fun."
All in all, spirit week had its ups and downs. There were ways the week could've been improved. But as a whole, I appreciate all the effort put in by ASB students and believe that they tried their best. I wish the days had been announced a little sooner and correlated a little more to the game.