Opinion: Is the new The Garden album "HORSES**T ON ROUTE 66" a hit or miss?
How do VHS students feel about The Garden's new album?
The Garden is a musical duo that has been making music since 2011, consistently having a unique style and spin on their music. The Garden consists of two members, a set of twins, Wyatt and Fletcher Shears, who have always been in love with music and everything to do with it. 
They played around with their sound till 2015, when they found something that really worked, and released their debut album "HAHA." Since then, The Garden has had small musical projects and have definitely made a statement with their newest album, "HORSES**T ON ROUTE 66." 
This new album has many fans, and ourselves, going crazy. It definitely has big shoes to fill after their last album, "Kiss My Super Bowl Ring." While some may say it's better than the last album in ways such as production and quality, we think that it's OK compared to other albums in different ways such as general songs and creativity wise, although it's missing the same punk rock feel as "HAHA." 
We feel that this has to be our favorite The Garden album for its vocals and just overall creativity. We like that there are new takes and differences in many ways. Sure there's some OK parts, but as a whole it's just better than the last album, and feels more complete. 
The long wait and general theme of the album has left many The Garden fans feeling like they had to wait for an OK album. On the other hand, there's some who really love it for having a semi-new Garden sound and trying new things. There are definitely very mixed reviews compared to their other albums. The Garden has always been known for having a "don't care mentality'' with their music, which is still definitely the case even now.. Many have compared their music to a heaving almost punk style.
 The Garden have been on tour all over the U.S. promoting their new album. This begs the question of what they're gonna do next, with them having little to no social media presence and not sharing what their upcoming plans are, fans are left hanging.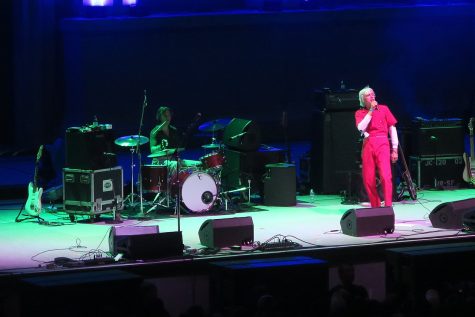 With both members having side projects, will the band split and go their own ways or continue to make music we love? We would love for them to come back to perform in Ventura, where they have come to perform in the Ventura Music Hall. 
Sarai Avalos '26 said, "I feel that they are growing as artists, for sure I may not like them but I would like to see where they go from here.''
Carlos Zepeda '26 said,  "I think that the band is a lot and not for everyone. I have a hard time listening to it casually but tend to find myself going back for more and think the new album is worth a listen especially if you like rock and like [indie-alt] but if you just want something new, I would definitely recommend it.''
Knowing this, would you ever give it a listen? We definitely think you should have and maybe keep an open mind when listening and if you don't like it, they also have other music. For us, this is just a great band and artist as a whole, and we're sure you will find something you like. We would have to give it a solid seven out of 10 and think that it's definitely worth a listen, for new or old fans.