Who is the real Jojo?
Do you recognize Jojo from Seussical the Musical? It was freshman Jack Zilles.
Zilles has done a variety of plays before this one, starting in elementary school. Zilles went to Lincoln Elementary, where he played a munchkin in Wizard of Oz, Tweedle Dum in Alice in Wonderland, John in Peter Pan, Prince Charming in Cinderella, and ironically – Jojo in Seussical.
When asked why he tried out for this role in the play, Zilles said, "I tried out for Jojo because I had done it before in third grade and also I am a short boy with a high pitch voice and that's basically who Jojo is."
When asked about his personal experience in this play, Zilles said, "It was a lot more fun than I would've thought."
"When I was auditioning for the play I was thinking 'You know maybe I'll only go for one role and if I dont get it, [I'll] just not do [the play] because I dont want to have a small role but now everytime I go for a play I'm going to take even the smallest role because it's such a great family and community and its just so much fun to be involved in one of these," Zilles added.
When Zilles is not acting, he plays water polo and also swims at Ventura High School. Zilles said, "I have been playing water polo for about two years now and swim…  I just started this year."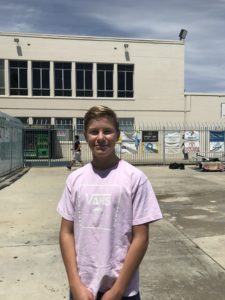 When asked if he plans to stay in the drama community throughout high school, Zilles said, "I definitely am."
When asked if he plans to continue his career in drama after high school, Zilles said, "That's not what I'm going for but I would be very happy to be able to."
When asked what he is going for, Zilles said, "I want to go to a four year college and become an engineer."