Fall sports kick off the school year
As the new school year begins, so does the Fall Season of sports for Ventura High School. Throughout the summer, Football, Boys Water Polo, Girls Tennis and Golf, Dance, Cheer, Girls Volleyball, and Cross Country all began to prepare for the fall season.
The girls golf team is preparing for their season open on August 24, the second day of school, at BuenaVentura Golf Course. This year, the team had almost double the amount of girls tryout for the team than last year, including many incoming freshmen.
The girls have been practicing every Tuesday and Thursday all summer long, "perfecting our swings," said senior Lacy Soleil.
When asked how the team was looking for the upcoming season, Soleil said, " My coach told us [that] we're going to smoke Buena again this year because our team is looking really good…. We have a lot of new freshman on the team, some of which have never played before but have great potential."
Over the course of their season they will play 14 matches against 10 different teams, including Royal, Simi Valley, Calabasa, and the 4 other teams competing in Channel League.
Shortly after on the first Friday of school, August 25, the best of VHS's Cougar Spirit will come out as VHS watches the first football game of the season against Thousand Oaks High.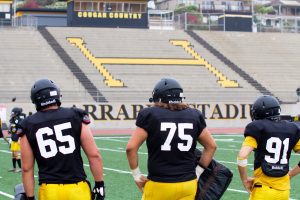 VHS Cougar football has been practicing since last school year, starting with weight room, moving to seven on seven scrimmages in the spring, and then in July, they received their football pads and began practicing.
Football has practiced everyday but Sunday all summer long, running routes, learning coverages, and conditioning to be the best team to represent Channel League in the playoffs.
In a tweet on Thursday August 10 @VCSPREPS wrote, "Ventura FB coach Tim Garcia thinks his team is the fastest and most athletic Cougars squad since 2000." This is no small comparison, considering the fact that the team from 2000 was the first team to win a CIF title in 49 years.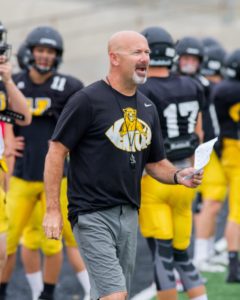 With the football season beginning, the cheer and dance seasons have begun as well. The VHS cheer team had the start of summer practice on July 20, and have been practicing Monday-Thursday from 4 to 5:30. Cheer has performed for football and school events throughout the summer as well.
They VHS dance team has competed for the first time this season at the Ventura County Fair Parade on August 5, where they won 2nd in their division for high school spirit, with many of the newcomers having never performed or competed before. The dance and cheer team also made an appearance at freshman orientation August 15.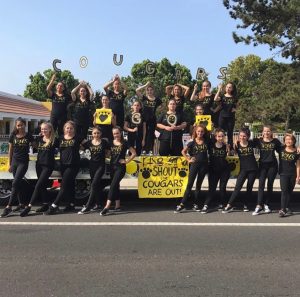 The sport that has the latest season opener is Cross country, with their first race on September 2, at the Greg DeNike Invitational in Arroyo Grande, CA. Both boys and girls have been very strong in the previous years, and they have high hopes for this season.
They have been practicing Monday through Saturday all summer long, and they recently went on their annual Mammoth week long training during the first week of August. In Mammoth they run at high altitudes, which allows them to increase their lung strength and being able to intake more air at one time– resulting in potentially blowing by every competitor.
Junior River Winn commented "we lost a lot of seniors last year, but a lot of the younger girls are stepping up." Junior Claire Ortiz added "we have high expectations for the season, but overall hope to keep working hard and progressing as the season goes and hopefully match or be better than last years team."
With all of these athletes and the hours of preparation they've put into their sports, make sure to keep up with the VHS Cougars and their standings throughout the fall.