Ventura Football Beats Buena for the ninth straight year
It was a cold, cloudy night on Friday, Oct. 12 as the Ventura High School Cougars took on their rival, the Buena High School Bulldogs. This was the 56th matchup between the two teams.
The Bulldogs kicked off the ball to start the game, and the game started off relatively slow. The only scoring came from the Cougars when junior Rourke Rieman (number 18) kicked a 38 yard field goal. At the end of the quarter, the Cougars lead 3-0.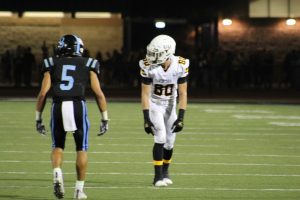 As the second quarter got underway, with 7:53 left the Bulldogs quarterback, Devin Morris(number 5), ran a one yard quarterback keeper to put them up 7-3. A few drives later, with 3:41 left in the quarter, Cougars' quarterback Carson Willis (number one) threw a 22 yard touchdown pass to Jadon Cline (number 17) to put the Cougars up 10-7. As it seemed that the game was about to go to halftime, the Bulldogs made a long drive that ended in a 33 yard field goal, as the time ran out, by kicker Taylin Butterbaugh (number nine). At the end of the half, the game was tied 10-10.
The third quarter went pretty slow, as neither team's made very much progress. But near the end of the quarter, Buena got a roughing the kicker penalty, which gave Ventura a second chance with a new set of downs. From this they worked all the way down the field and ended the drive with a 24 yard touchdown from Willis to Zack Rodriguez (number 80), Cougars leading 17-10. Ventura kicked off to Buena, and they returned the kickoff all the way to the one yard line. The Bulldogs' Bruce Powell-Mathis then ran the ball in for a touchdown, ending the third quarter with the game tied at 17-17.
Once again, the quarter started off slow with no scoring. With 8:15 left in the quarter, Cougars' Liam McGee (number 26) had a diving interception to halt the Bulldogs momentum, but minutes later Bulldogs' Devin Morris had an interception at midfield. Buena turned over the ball, and Ventura drove the ball down into the Bulldogs' territory. With 3:45 left to play, Rieman made an impressive 35 yard field goal which put the Cougars on top 20-17. After this, Buena turned it over again and Ventura just ran out the clock to give the Cougars their first win of the season.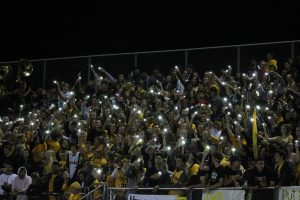 Regarding how it felt to win the Buena rivalry game, junior Trevor Koontz said after the game, "It feels amazing just when that final clock stopped it was just amazing to get that trophy in our hands and celebrate on the Bulldog."
Koontz said that he thinks they won because "[They] really just had a great practice week and [they] really fought hard and [they] came together as a team."
<iframe width="100%" height="166″ scrolling="no" frameborder="no" src="https://w.soundcloud.com/player/?url=https%3A//api.soundcloud.com/tracks/514445652″></iframe>
When asked about how he thinks their last two games will go, he said, "If we practice how we practiced this week and just play together how we usually do, we're gonna finish the season strong."