Apex helps you reach your peak
Do you need to make up credit for a class? The Apex Program is the place for you.
Math teacher Evan Spellman is the advisor for the after school Apex Program offered at Ventura High School.
According to apexlearning.com, "Apex Learning digital curriculum is designed to actively engage students in learning combining embedded supports and scaffolds to meet diverse student needs, actionable data to inform instruction, and success management, to ensure you get the outcomes you're expecting."
When asked what the Apex Program is, Spellman said, "Apex is a credit recovery program designed for students who have failed one or more classes and it's an alternative pathway from summer school."

In response to if the program was beneficial for her, senior Mishel Tachet said, "Well since I was making up credits it was much more convenient than having to attend summer school or [going] to an after school class because you can do the work at home."
Tachet also mentioned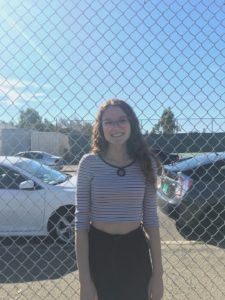 that "if you're a diligent worker [the program is] great but if you procrastinate it's difficult."
Senior Cassidy Cross also shared her thoughts on the program: "It's been [a] pretty long process. I would say it's helping slightly [because] I get to go my own pace and speed."
Cross also commented on how she was introduced to the program: "I struggle in math and Spellman knew that so he signed me up for it."
The process of joining Apex as a few steps according to Spellman. "[Students] first need a referral from their counselor and then they would sign up though Assets, it's a program through Assets. Once their counselor and the Asset director has approved [them], they come to my class after school."
The Apex Program is held in Spellman's classroom, room 108, from 2:30 to 4:30 p.m. Students can come in and work during the 2 hour window.
To learn more about Apex, students can go to apexlearning.com.