Reynosa: a catalyst for a new AP course
AP chemistry–taught by Karen Reynosa– is a new class offered at VHS this year, which many of the students already seem to enjoy, despite the difficulty of the course.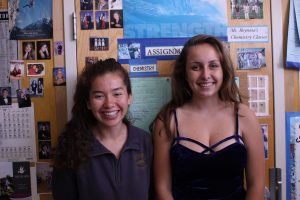 The class is said to consist of new labs that are more intensive, and can provide students with college credits.
Many of the students explain that Reynosa is the perfect teacher for the course, like senior Nancy Aguilar who stated, "She provides such a good environment for the students and has a nurturing way of surrounding us."
Senior Cameryn Boggio-Shean added, "I feel like she's going to prepare us really well for the AP test."
Reynosa shared that, "We started AP Chemistry because there was a student that I had in Chemistry who really wanted to take it, and this was two years ago, and he kept asking me and asking me if I would teach it and I said 'I'll look into it.'"
After looking into the course, Reynosa shared that she was super excited because she's taught Chemistry for 20 years, and has "never taught anything so difficult." She added that, "[it's]  kind of exciting to be able to exercise my brain after teaching the same thing for many, many years."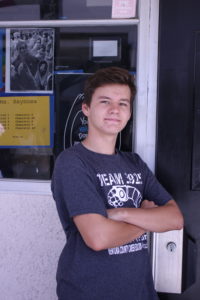 Reynosa went to a workshop, and commented, "I realized that it was amazing, like it's a mass of knowledge that most kids don't have the confidence to even try. This year, there are 65 kids signed up for AP Chemistry and I think that's amazing. It just shows so much about our school, our student population, how driven they are, and how amazing they are to take this challenge."
Senior Desiree Estrada states, "The class has been pretty tough so far, we've hit the ground running since the beginning of the school year but now things are kinda slowing down and it's kinda easier."
Senior Peyton Reynolds explains that they can get credit for the labs they do by writing them in a special notebook given to the students by Reynosa, "We have these really cool notebooks that we can write down our labs in. If you do it well, you can actually turn it into your college and they can give you credit for an entire lab course."
Students are excitedly anticipating the AP Chemistry test, believing that Reynosa will prepare them well.
Reynosa concluded her interview with, "I'm working really hard. The kids are working really hard, it's a hard class, but I think in the end we'll really come together as a family, and we will kind of think of this as our little charge–you know like, our little Wonder Women charge– and trying to conquer this really tall mountain and we are just going to try to bring it down and help eachother out, and see where we go."