Boys volleyball defeats Rio Mesa 3-2 to secure playoff spot
In a 3-2 win, Ventura High School varsity boys volleyball defeated Rio Mesa High School on Wednesday, April 24 to clinch the third-place playoff spot for CIF.
Senior Eddie Pacula (number four) was the Ventura Boys Volleyball Player of the Match with three serving aces and 46 assists.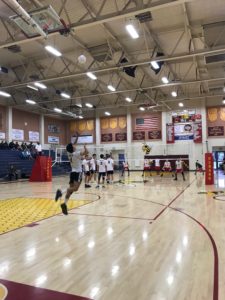 Sophomore Caleb Gilbert (number eight) and junior Nathan Johnson (number nine) made 18 kills to average 3.6 kills per set, while senior Dylan Burns (number three) made 14 digs and two aces.
Senior Bryce Weinell (number seven) made two solo blocks, while Johnson as well as senior Wyatt Drennan (number one) and sophomore Dylan Nicodemus (number 16) made one solo block each.
Going into the match, which took place at Oxnard High School to be at a neutral school, both teams had tied records in the Pacific View League at 5-5.
VHS won the first two sets of the match before Rio Mesa roared back to win the third and fourth sets. In the fifth set, where the first team to score 15 points wins, VHS won 15-13.
"At the end of league play, Ventura and Rio Mesa were tied for third place," said David Hess, "and the league can only send three teams to the playoffs." The match between VHS and Rio Mesa was to determine who got that spot, said Hess.
Asked what he was most proud of last night, volleyball coach Gary Knowles said, "I was most proud of the fact that we never gave up when there were times to do so, they kept on fighting, all the way through the fifth set, and in the end, that was the difference."
"At this point in the season, there are some adjustments that need to be made in moving forward," said Knowles, "but we compete against the game of volleyball.
"We have the athletes to compete against any of the schools that we are going to face in the playoffs but it is important for our players to understand that it's process always that will dictate the results in the end, and as long as we continue to improve as a team, the results will take care of themselves."
Boys varsity volleyball finds out the time and location of its next game Friday, April 26. It will be an away game because "third place teams always travel on the first round," said Hess.