Can't take the heat? Get out of the meet
Ventura wins their first home track meet against Rio Mesa and Pacifica High.
Ventura High School's track team competed against Pacifica High and Rio Mesa High at their first home track meet of the season. The meet started by the boom of the gun, sending racers off in the 4×100 relay race at 2 p.m. at Larrabee Stadium.
This meet had been a major improvement from last year, according to sophomore Inman Costa, "So far [track has] been way better than last year, although I've gotten sick and injured so getting back into it was a little tough. My favorite moment so far was winning my race last week and running a 4:59 for the mile." 
Senior varsity distance runner Clayton Mathews finished first in the 1600 meter with a final time of four minutes and 32.5 seconds. Senior varsity distance runner Madeleine Locher also finished first for girls, with a final mile time of five minutes and 20 seconds.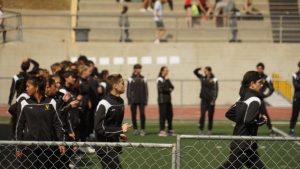 Through the constant racing and announcements during the meet, runners still managed to stay focused and encourage one another. Junior Lizbeth Ramirez, sprinter, long and triple jumper commented on the team's environment, "[Track] is very welcoming and I feel very comfortable failing and making mistakes because I know I have my fellow juniors and seniors to correct me and guiding me to never making those same mistakes, as well as how diverse and unique track really is. The way that at the beginning of the school year you might not know someone had an amazing personality, you never really knew them until you [bond] in Track and Field and build strong friendships with them."
Both girls and boys hurdlers won both the 100 and 300 meter hurdles races, senior Laura SanGiacomo finishing first for girls in both races and junior Connor Loughman finishing first for boys. 
Away from the track, junior Mya Conboy and other varsity throwers spent their time in the shot put ring. "I have had a major PR in shot put this year by one foot and three inches, my goal by the end of this year is 30 [feet]." Senior Kaja Boas scored second in shot put with a throw of 33 feet, seven and a half inches.
Traditional to every meet, it ends with a 4×400 meter relay race. This is thought to be the "most intense" moment of the entire meet, as each out of the four racers sprint 400 meters, or one lap, to hand the baton to the next racer. In this meet, varsity boys won the 4×4 relay at three minutes 36 seconds, beating Rio Mesa by 14 seconds. Varsity girls also won their relay at four minutes 11 seconds, beating Rio Mesa by 11 seconds. 
The rest of the season looks bright for the Cougars, as the teammates think very highly of others. "One of my favorite moments is seeing freshmen Ryan Mendez run incredible races starting from the 100m to 200m, all the way to the 400m. For the 100 dash, she got 13.45 seconds which scored her tenth in the whole Don Green Invitational out of 250 girls. As well as her incredible 400m dash starting at 61 seconds and tying the top second fastest varsity girl on the whole track team," said Ramirez.
 Costa proceeded to comment on the positivity that is spread throughout, "The team is really great, you always have somebody to laugh with you and support you through the tougher workouts." 
VHS Track and Field is hosting their invitational meet on Saturday, March 14 at 8 a.m. and has their next team meet against Oxnard High and Buena High on Thursday, March 19 at 2 p.m. at Buena High School.