Students for Latino rights
A synopsis of the Latino Rights Club
The Latino Rights Club (formerly known as the Latinx Rights Club) is a club at Ventura High School that focuses on activism for the Latino community. Its presidents are juniors Mateo Navarro, Sinthia Cardenas and Lilia Duque. The club was founded in fall 2021.
Navarro said, "The Latino Rights Club is a club dedicated to activism, legislation, appreciation and forum of Latino community and culture. It was started as a chance to finally have a place to outreach towards our Latino population on campus, as we didn't have any form of representation before this, and we wanted to let voices be heard and people be seen."
The club organizes various projects such as movie nights, Spanish-language book drives and partnering with organizations such as the Central Coast Alliance United for A Sustainable Economy (CAUSE) or the Mixteco Indigena Community Organizing Project (MICOP). The club also occasionally holds workshops.
Freshman Kamilah Montes de Oca, who is a Latino Rights Club member, said, "I've been in it [the club] since the first meeting. [I like] the feeling of accomplishment, I feel like we could make change. Mateo, Lilia and Sinthia are great and kind people and they're amazing leaders. Also the members are really creative and hardworking."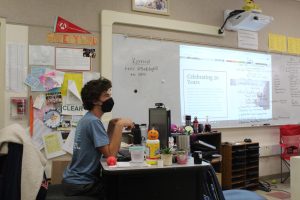 There are nine active members in the Latino Rights Club as of April 12. Navarro said, "The club took two weeks to start up."
Senior Alex Valianos, who is a member of the Latino Rights Club, said, "The club definitely provides insight on other cultures than I know. I grew up in a completely European household, so listening to the discussions in the club amongst the Latino members has helped me to learn and understand some of the quirks and struggles of that community."
The club has previously hosted a showing of the movie "McFarland, USA," which took place at the senior lawn on Dec. 17, 2021. The club sold tamales, horchata, hot chocolate and popcorn at the event. At the fall Food Faire on Nov. 19, 2021, the club sold pan dulce. Later at the spring Food Faire on March 25, the club sold duros and raspados.
Valianos said, "My favorite part of the club is the open and fun atmosphere that it has. I would absolutely recommend that others join the club. There are never too many people when it comes to discussing, understanding, and acting for the rights of Latino people. For my other non-Latino friends as well, joining would be a wonderful learning opportunity of a culture and ethnicity different from theirs."
To join the Latino Rights Club, students can go to club meetings that take place every Monday and Friday at the ASB room (number 113). The club can also be joined through its Remind (its class code is @latinorig). There are no prerequisites for joining.