Opinion: Are UGGs overrated?
Since the winter season is here, VHS students and staff are breaking out their winter wardrobes
The brand UGG, often referred to as "UGGs," is a unisex shoe brand specializing in "Uggs," an Australian term for sheepskin boots. UGG boots have a variety of different styles ranging from slippers to platforms. The brand became a fashion staple in the late 1990's and early 2000's when UGGs, or boots in a similar style, saturated the fashion market. 
UGG boots are owned by the company, Deckers, and were founded by Brian Smith who originally made the boots in Australia before expanding into the United States. Smith chose California to expand to because Smith thought California and Australia were similar in their surfer lifestyles, according to an interview done with Tinuiti.
According to Entertainment News, Uggs had their downfall in 2011 when fashion blogs began to list them as, "trends they'd wish would go away." But after more than ten years, Uggs have made their comeback. 
The COVID-19 pandemic played a huge role in bringing UGGs back. During the pandemic, many people spent a lot more time inside and at home than they were used to. This changed fashion from a "what looks good" type of style to a "what feels good" style therefore UGGs have risen in their popularity. The UGGs brand has even reached higher popularity than competing brands such as BearPaw, another brand known for creating ugg style boots. This is because of the UGG brand's higher quality product, year-long warranty and great marketing skills that focus on making their models look real and active.
Sofia S'gro '23 said, "Uggs are appealing to me because they're warm and comfortable. I think they're classic winter [shoes]. I get super cold so having the fur lining [is] really nice."
After knowing the history of UGGs, their downfall, and their rise, a popular question can be exchanged. Are the shoes overrated? The question has many different answers. UGGs on campus are seen on a daily basis by teens and adults. Even children can become victims of the UGGs craze. The shoes usually range from $100 to $200 and are made from the highest quality sheepskin available for this type of shoe. 
UGGs have some great factors, such as their warmth, comfiness and nostalgia. But, they also have cons that definitely need to be discussed. The majority of UGGs are not weatherproof; they are not meant to be worn in the rain. There are also a accusations concerning animal cruelty for the sheep UGGs use, since these sheep aren't just getting defluffed to make these boots they are getting fully skinned.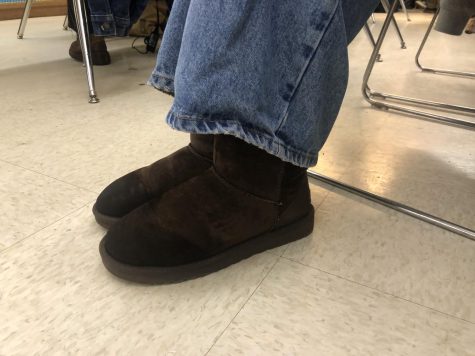 Ariel Sanchez '24 said, "UGGs aren't for me because I don't like the thick fur style. They are advertised as like rainy-day shoes but they get soggy if they get wet. Then when you wear them when it isn't cold your feet sweat."
Though UGGs have their cons, according to UGGs official website, the brand practices responsible sourcing of sheepskin to prevent animal cruelty. All UGG suppliers must practice humane animal treatment. 
To address the problem of the shoes not being weatherproof, not every shoe can be. It appears that going along with the theme of coziness during the pandemic, the shoe brand is marketing itself towards comfort, instead of practicality. 
Even though I own UGGs myself, I would say I wear them more for style and comfort than actually walking and weather purposes. With this being said, I think I'd have to side with Sanchez, UGGs are overrated.