Opinion: Why the spring dance was a flop to begin with
VHS spring dance, although a good idea in theory, seemed rushed and untimely
The spring dance set to replace the traditional Sadie Hawkins dance was a doomed idea from the beginning. Even with the more inclusive concept and title, it was announced only nine days before the actual day of the dance. This gave ASB only nine days to gain traction among students and to allow students to get contracts if they wanted to bring a guest. 
Olivia Arriaga '24 said, "I think people did not go because they showed a lack of interest and it wasn't a very formal dance."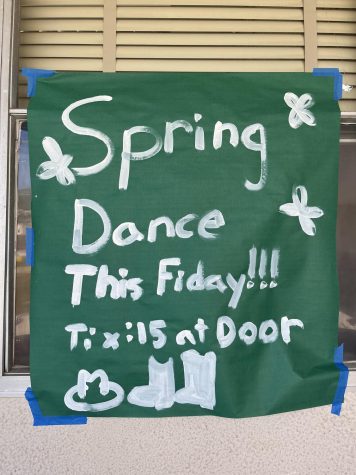 With such a short time, it was hard to even to plan out what to wear, who to go with, etc. ASB left out key points, such as if it was a formal or casual dance, leaving students questioning what the whole vibe was. The only information we got was that it was rodeo themed, the date, ticket prices and the time. Students had no idea what to wear or what the dress code was. Was it formal or casual, according to the theme? No one seemed to know.
Emmie Fago '24 said, "I think the outline was too vague. They [ASB] didn't say whether it was formal or not. The only thing they said was that there was a dance and it was like western theme or something."
The spring dance was set to be held at VHS on March 24. However, FTHS also held a dance on the same day, with the theme of "Secret Garden." FTHS ASB announced this date and theme on Feb. 15, a whole month before VHS announced the spring dance. Having the spring dance on the exact same day as FTHS' dance would honestly be ridiculous. With FTHS announcing their dance an entire month before VHS' dance, of course, most students were already making plans for the dance announced earlier. Although the concept of the spring dance is a great idea, it was bound to fail from the day it was announced to students.
This is not to say ASB does not come up with amazing plans for dances that students enjoy; however, in this case, ASB planned much too late and announced the dance even much later. Unfortunately, the spring dance did get canceled due to a lack of interest and not enough ticket sales on March 23, the day before the dance was supposed to take place. Although unfortunate to see that this dance was canceled, we believe it's a good view of how planning much more in advance and giving time for students to make plans, find outfits and overall gain traction for the dance creates a more successful plan for ASB.
Arabella Guce '24 said, "I liked the theme of the spring dance but everytime I go to a dance it is not worth it like the money spent."