What's cooking in room 88?
A feature on the Ventura High School culinary arts program
Ventura High School's food, service and hospitality pathway (also known as culinary arts), is a program that is open to everyone except for freshmen. It is taught by culinary arts teacher Kayla Hernandez, who has been teaching at VHS for eight years. She is also known as "Chef Hernandez" by many students. Culinary arts classes are a combination of hands-on cooking "labs," culinary history and nutrition. 
Hernandez said, "Culinary arts provides a life skill [to students] first and foremost. Everybody should know how to cook. I feel like it's essential for anybody to know how to cook at least ten different recipes because you could take those recipes and change them into other things. We also learn how to shop for ingredients, how to prepare them and how to eat them. We also teach balanced nutrition."
Culinary arts class lessons can range from traditional classroom lectures to cooking "labs." These labs are when students cook and apply their knowledge in the real world. Hernandez said, "Students are in kitchens [during labs] and they work in groups of five to six. They can prepare recipes. My lectures are all based around food, but there's a little bit of everything."
Sophomore Anneliese Maxwell, who has culinary arts for fourth period, said, "I like getting to learn different techniques of cooking and experiencing different cultures through food."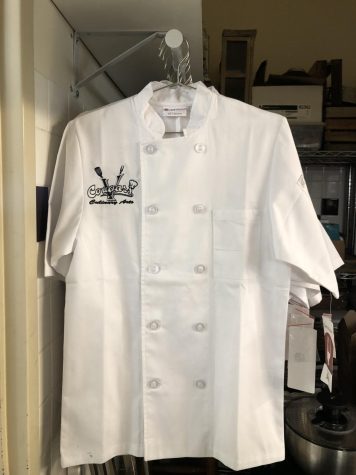 The culinary arts program was temporarily disrupted during COVID-19 school closures. Students were given home kits which included cooking activities and ingredients. The COVID-19 pandemic also reduced its pre-pandemic catering practices. Hernandez said, "My students would volunteer and work at events such as the Casa Pacifica Wine, Food & Brew Festival. We were very active in the community along with different catering events. We are just starting to get our feet back in the waters of that."
Senior Jazzy Cecere said, "My favorite part of the class is being able to try new things and learn the background of the food that we are making."
Hernandez teaches five periods of culinary arts as of the 2021-2022 school year. They are "Intro: Foodservice and Hospitality" (second and third period), "Food & Nutrition" (fourth period) and "Advance: Foodservice and Hospitality" (sixth and seventh period). All of the culinary arts classes combined have roughly 100 students enrolled. They are all year-long electives and count as an applied art credit for high school graduation. 
Hernandez said, "I would say if you are thinking about it [joining culinary arts classes] look when registration time comes around because my classes fill up really quickly. As soon as you know that you are interested, come get my signature. I have a commercial and advertisement slide that goes around for kids to know how to register for the class."