Cougars cycle through the fall season
Student athletes speak their minds about their teams performance this fall season
[dropcap size=small]A[/dropcap]s Cougars approach the end of the first quarter, we cycle through the season of the fall sports Ventura High School has to offer. All of the fall sports teams, which include cross country,
girls golf, girls tennis, girls volleyball, boys water polo, and football have made it to CIF. This season went in Ventura High's favor, and the athletes came to play.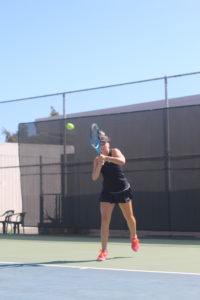 Some of the VHS student athletes gave a more in depth look into their seasonal highlights. Junior Liliana Ramos is a current varsity team member of girls
golf, she said, "We had a good season. We only lost twice, both losses being to Buena which really sucked, but we made it to CIF for the second time in a
row." Ramos also gave some insight on personal and team accomplishments met this year, "I increased my clubhead speed with my driver, because of this I
can now hit the ball farther. We prepared individually by finding what our weaknesses are and working on them." The VHS golf team has had a
phenomenal reputation in the past, and carried it through this year despite their CIF loss with a league record of 8-2.
Junior Taylor Sovich also explained her season on cross country, "I would say my season went fairly well this year. The goal as a varsity group was to close
the time gaps between each other and come in closer together, if that makes sense. I think I did a good job at staying closer to my teammates and being mentally stronger this season. We've been preparing pretty much all season in terms of workouts we've been doing. For instance some of our teammates
have gotten injured so it was important for them to take some time off in order to be back for this time in the season. Out of all the three years I've been on
the cross country team, I feel like this year our group has been very close. As a team we can all relate to whatever anyone of us is going through, injuries, bad days, etc. Many of us have set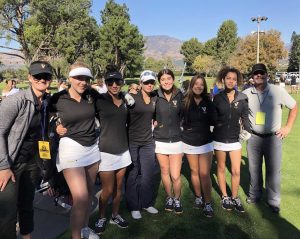 such high goals for our team and work so hard not only for ourselves but for our teammates because we care so much about one another. And having the goal to go to State this season and strong support for each other has pushed us through some pretty tough workouts where we start to doubt ourselves."
Junior Talia Wilcox shared her experience as a VHS tennis player. "I think the season was really fun and a great experience for me as a first year on the
team. This is my first year on the team and so my main goal was to play. We have a lot of talented seniors and freshmen on our team and we are all very close and cheer each other on. Everyone is really good this year and it's a very positive atmosphere on the court." Girls tennis unfortunately lost their CIF match, 7-11 but hopes to take the title for Ventura next season.